Warren Tricomi Salon – Genius with hair

Jamie, taking in caffeine and letting Kasumi do her (amazing) thing
I remember when I was 17 or so, I read an article in one of my teenybopper mags about women who are just addicted to getting weekly blow-outs. I also remember thinking that there's no way I could sit still that long, because it seemed like an eternity in my mind.
Whew, after heading to the Warren Tricomi Salon Saturday before last, I understand it. What an amazing experience. I won't lie, I was a bit hung over (Meiming, thank you for a fantastic time!!) so when Nicole took me back to shampoo my hair, I wasn't feeling the greatest…however, within minutes of her starting her magic, I felt TONS better. There's nothing (except some good Mexican food) better on a Saturday morning to cure Friday night than having a shampoo, scalp massage, and condition. Amazing.
After Nicole was finished, she turned me over to Kasumi for the 'make me beautiful' part. Every. Single. Strand. of my hair was brushed and blowdried. It was seriously the most thorough drying of my hair I've EVER experienced, then she told me my hair is super soft (yay!) and that she'll have to curl it bouncy so it will fall like she was envisioning.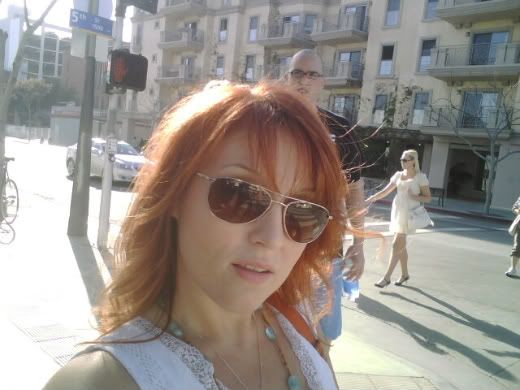 The results of Kasumi's expertise
Kasumi literally read my mind and made my hair look exactly how I've always wanted it to look: tumbling waves and soft ringlets. *sigh*
The salon itself is highly efficient and all about the providing a soothing atmosphere while you get your beauty on. If you're ever in LA around Melrose, you MUST GO to the Warren Tricomi Salon. Must.