Lou's top MAC Mineralized Eyeshadows
I'm not the biggest fan of MAC Mineralized eyeshadows. Mainly because they tend to be quite sheer and have quite a bit of fall out. However over the recent years I feel that MAC have really improved their quality and I find myself using three in particular quite frequently. Keep reading to find out what shadows they are.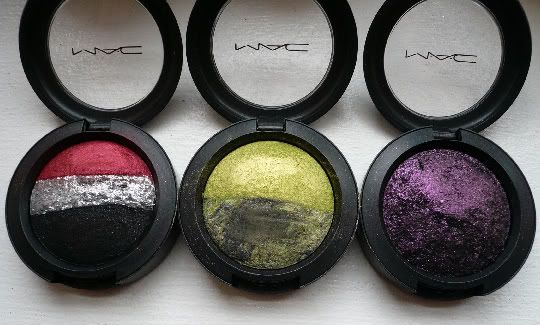 Danger Zone is amazing. Not only does it instantly have me singing the song of the same name in my head, but this is a Mineralized shadow that is actually very easy to work with. It was released back in 2008 with the Red She Said collection.  What is most eye catching about this shadow is the red. It looks so beautiful in the pot – slightly shimmery and very striking. It is the most 'red' shadow that I actually own from MAC. The red swatches very well dry but it really looks stunning when applied wet, as you can see from my swatch.
The second colour to Danger Zone is the black. This is a little bit like black tied because it seems to have a very subtle silver shimmer running throughout. However once applied it is not really that visible. It can be a little chalky so I always dampen my brush with Fix+ before I use this shadow.
Of course there is a third part to this Mineralized shadow but it is now shown in my swatches for a reason. This silver glitter strip (glitter zipper as us Specktra members referred to it) is terrible. All that happens is you get the odd large flake of silver glitter on your brush. You can't apply it evenly, you can't even use it as an eyeliner. I honestly don't know why MAC included these glitter zippers with the shadows.  That said do not let that put you off – the red shade alone is worth getting this shadow for.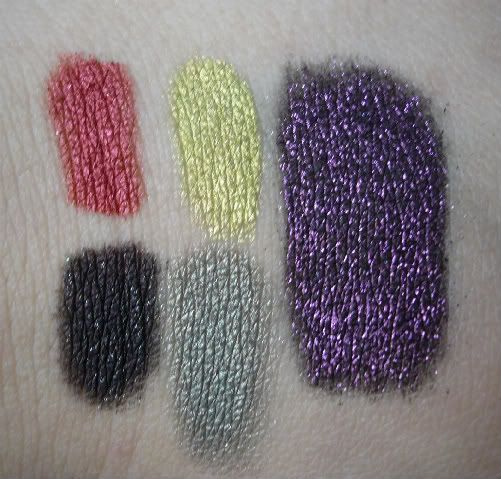 from left to right – danger zone, fresh green mix and young punk. All swatched wet.
Next we have Fresh Green Mix. Being a lover of green I had to buy this as soon as it was released with the Electroflash collection in 2008. However it then became part of the permanent line of Mineralize eyeshadows. This shadow has two parts to it. The first is a solid yellowed green colour and the second part is made up deep green, olive, blue and gold veining.  The solid side reminds me a lot of Chartreuse Pigment. When used wet this looks virtually identical to it, when used dry it is a much more subdued version.
The veining side is what I love most about the shadow. When you mix the colour together you get a lovely silvery green colour that is a little bit like Golden Olive pigment but much lighter. This works wonderfully as a crease colour when you use the solid colour on the lid. Or equally you can use this on your lid teamed with black eyeliner for a simple but sexy look.  The fallout isn't too bad with this shadow either which is always a bonus!
Lastly there is Young Punk. This was released with the Style Black collection in 2009 and is very different from any Mineralized shadow MAC had ever done. You can see from looking at it in the pot just how shimmery this shadow it. It is a blackened purple shadow that is crammed full with pinky purple glitters. You have to use this shadow wet to see why it is so amazing. If you use the shadow dry it comes across as a chalky black base with glitter running through. When used wet it transforms into a deep black filled with glitters that really shines pink and purple in the light. I also like to use this with a black base to really create a deep smokey look. For an easy smokey eye I use this wet on my lids and then I blend some of the shadow into my crease but this time using it dry.
What are some of your favourite MAC Mineralized shadows? Are you looking forward to this years mineral collection Semi Precious? Let me know in the comments.