Give me some Eye Kandy
You know when you see a product and have to have it? You can't stop thinking about it and know that it will be an amazing asset in your collection? I reacted like this when I saw a video of somebody using Eye Kandy Cosmetics.  If you love glitter like me you will see why I went so crazy and obsessive over owning some of their products.
Eye Kandy Cosmetics is a company that has been around for many years.  They actually sell products to Cheerleaders and dance groups, only recently have the been going to IMATS and showing us their fabulous products.  Eye Kandy have created something amazing.  It is called Liquid Sugar.  This is the product you have to buy before buying anything else.  Liquid Sugar is a glitter adhesive and makes glitter stick to anywhere on your body.  The second product they produce are the glitters themselves.  The have over 50 varieties of glitter to choose from and the best part is that they are eye safe!  To get myself started I decided to buy a Kandy Bag.
In this Kandy Bag I got a bottle of the Liquid Sugar (1oz) and three of the 'Sprinkles' – the jars of glitter.  It also included a little fine tipped brush to apply the glitters with.  This bag cost $28.80 and was excellent value because the glitter posts are usually $8 each and the Liquid Sugar is $17.  This totals to $41 and I haven't even included the costing of the brush.  The deal got even better when you could add additional glitters for only $6 each when buying one of the Eye Kandy Bags.  Of course I had to order five more glitters!
I got the following glitter colours with my order -
Hard candy – topaz blue
Pixie Stick – bright lime green
Tiny Tart – lilac
Cherry Bomb – crimson
Caramel Apple – gold, brown, red and green glitters
Sour Berry – bright kelly green
Licorice Stick – gunmetal grey
Pumpkin Pie – bright orange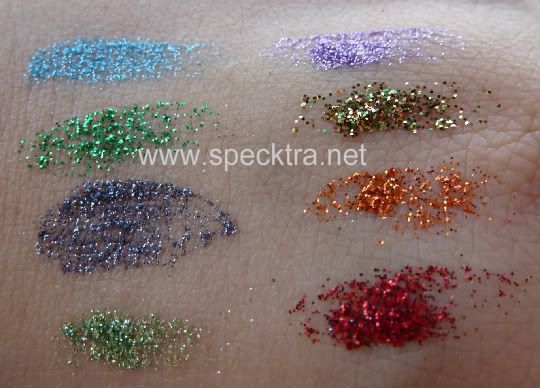 I found using the kit very easy.  You simply drop a couple of drops of the Liquid Sugar into the empty cap of the glitter, dip your brush into the liquid and wipe the brush down when saturated.  Then simply dip the brush into the glitter and apply to wherever you'd like.  Because the brush provided is a fine brush i started by applying the glitters as eyeliner.  If you use them over a black or solid base you can use more liquid to make the glitters spread out more.  However if you want the glitter to be more 'solid' you can use less liquid so the glitter doesn't spread.  You can also use a normal brush to apply the glitters to other areas of your face or body.  for example one day I used a MAC 239 brush to apply the glitter all over my lids.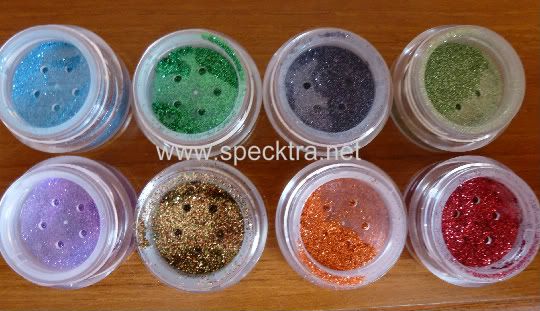 The Liquid Sugar is an amazing product in itself.  this stuff really does make the glitters stick all day long.  I have no flaking when using these yet they equally come off very easily with my normal cleanser and water.  The only day that I did get some flaking was where I applied the glitter far too thick so after about 4 hours some started to fall down onto my cheeks.
Overall I am really happy with my order from Eye Kandy Cosmetics and would love some more of the glitters.  The only thing that puts me off is the shipping prices.  For my order I paid $23 for shipping however when my package arrived the sticker said it only costs $7 shipping.  I also know that the little box it came in cost money however I feel the shipping price was quite frankly insanely marked up.  Because of this I won't order anymore online.  I shall wait until there is a UK stockist instead.  For more information please go to www.eyekandycosmetics.com