A not so long lasting lipstick…
My local drug store (Boots) usually have good offers on makeup.  So when I was stocking up on Revlon foundations I decided to try something new from them.  Revlon is one of my favorite drugstore brands and when I saw that they had a long lasting liquid lipstick I knew I had to try it.  Keep on reading to see what I think of their Colorstay Ultimate Liquid Lipstick.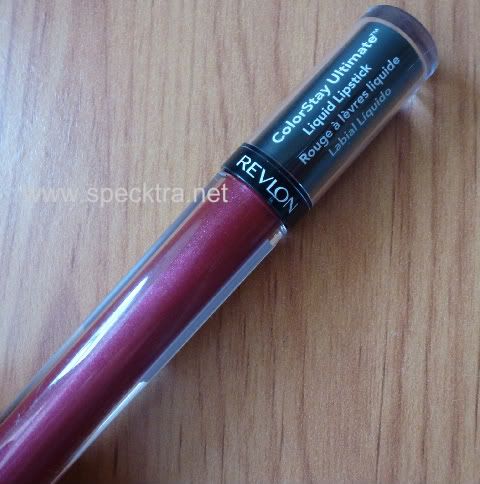 I chose to get the shade Brilliant Bordeaux.  It is a darker lip colour and is a deeper cherry red shade with very subtle pink micro shimmers.  Revlon say that the colour can last up to 12 hours so I thought this would be a great product to wear on a night out.  Plus the shade is very vampy looking so I thought it would be a perfect choice.
So although this product sounds great and also looks nice in the tube, it was a huge let down for me.  Firstly the formula of the lipstick itself is very difficult.  I know it is a liquid lipstick, however this is very watery.  I was expecting a thicker, gloss like texture.  However that is not the issue.  The applicator is a doe foot which quite frankly makes for a poor application. Because the formula is so watery, the doe foot does not give a controlled application – it squelches the product all over your lips.  Plus far too much product comes off onto the doe foot so you really have to wipe the applicator or else you really do end up with the product all around your mouth.
Secondly I have not yet had this product last for 12 hours like Revlon state.  After about five to six hours the product starts wearing away and leaving a dark ring around my lip line.  Certainly not a good look when you are wanting to wear this on a night out!  However what I find most upsetting is how drying this product is.  Most long lasting lipsticks do dry my lips.  However this is the worse that I have ever used.  Within the first hour of wearing the product my lips feel very dry and uncomfortable.  When I apply a balm on top my lips still don't feel hydrated and I am pretty sure that by doing this it messes with the formula which causes it to wear off quickly.
I was also disappointed to see that once the product dries down the subtle micro shimmer that you can see in the tube just disappears and the liquid lipstick looks very flat and has almost no gloss or shine to it at all.  Overall I must say that this is the first product from Revlon that I have bought that I was disappointed with.  Luckily I got this for free because it was on a 'two for the price of three' offer, however full price is actually £8.99.  I am still on the hunt for a long wearing lipstick that doesn't dry my lips out.  If you know of any then please let me know in the comments.