Amazing Grace
Some days I don't want to wear a heavy perfume, I just want a light spray that makes me feel and smell fresh.  This body spray from Philosophy fits that bill perfectly.  It's part of the Amazing Grace line and if you want to find out why this is a great everyday scent for me then keep on reading.
I really love Philosophy shower gels and had actually used their Amazing Grace one before but quite some time ago.  I remembered it smelling really fresh and clean so when I saw this body spray going for about £5 in TK Maxx I knew I had to snap it up!  It comes in a clear plastic bottle that contains 8oz.  It has a black nozzle that creates a nice mist when sprayed.  I like that the bottle is plastic because it keeps it light to carry around in a bag – however it will struggle to fit in smaller bags because this is quite a large sized bottle.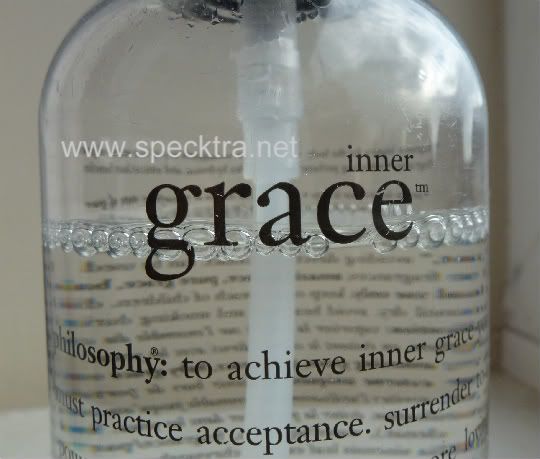 Philosophy also state that this body spray is no ordinary body spray.  Not only does it smell  amazing but it contains moisturizing and antioxidant ingredients which benefit the skin.  They also claim that it helps to protect the skin from environmental attack… whatever that could be!  So what does it actually smell of?  The best way to describe it is as a clean and floral scent.  It's very different to all other sprays and perfumes that I own because usually I prefer more musky scents.  This is so light and fresh that it reminds me of freshly washed clothing – it's very feminine and just smelling it makes me feel more clean.
The scent itself does tend to fade quite quickly on me.  Generally after three hours I am in need of a spritz again but seeing as it is a body spray and not an actual perfume I won't hold that against it.  I also think that if you were to layer it over the shower gel and body lotion the smell will last much longer.  I actually still have some of the body lotion and the two do smell exactly the same – this is the perfect scent to apply after you have got out of the shower.
Overall I am happy with my purchase – I got this for a bargain price and love the smell. It doesn't aggravate my sensitive skin at all so i'm really pleased.  For more information on this product go to www.philosphy.com