It's Flashy in the water too!
When I went to Paris a couple of years ago I made sure to stop by Sephora so that I could check out their cosmetics.  Mainly because we don't have a Sephora in the UK and there were a couple of things I wanted to check out.  One of the products has become a firm staple in my collection and I am going to be sad when it's all gone.  I want to share the love on this liner so if you're interested then keep on reading.
I'll be honest – I wasn't expecting much from this liner from Sephora.  For starters it says that it is waterproof and I find that many products that say they are waterproof tend to wear away at the first splash of water, let alone stay put for hours of splashing good fun!  However this liner really has made an impact on me. The liner itself is called Flashy Liner in number 12 Flashy Ultra Green.  It contains 0.04oz of product and is like any ordinary liner – it sharpens with a standard pencil sharpener and of course has a plastic cap to protect it.  The liners actually come in a variety of shades and can be purchased from www.sephora.com and cost only $8 each.
The reason why I chose this shade is because I love green shadows and wanted something ultra bright to last on my waterline area when I was rocking a green look.  It's a bright grass green which is extremely opaque and very smooth to apply.  There is no shimmer in the liner however it does have a slightly metallic sheen to it which adds a little dimension to the colour.  It doesn't tug on my lids either when I apply it to my upper lash line which is important as I don't want to cause any wrinkles!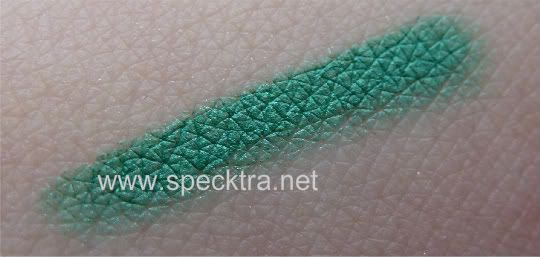 The staying power on this pencil is amazing.  Not only does it last a full working day without fading (about 10 hours and even when worn on the waterline and tear-duct area) but it really is waterproof.  I have worn this liner when going to water parks to add a pop of colour to my eyes and the liner doesn't smudge or fade at all.  In fact it lasts so well on my eyes that I have to use an oil based remover to take it off as my regular one won't remove it.  The quality of this Sephora pencil is the same as the MUFE Aqua Liners in my opinion but these are half the price.

My only niggle is that I can't get hold of this in the UK that easily. The French Sephora site does ship to the UK but I need to make a large order to make it worthwhile as the postage it quite high.  However when I return to the states next year I shall be buying all the shades I can on the Flashy Eyeliner because I have been so impressed with this one. Have you tried any of these out?  Let me know what your favorite shade is in the comments.