Benefit Posietint
I have tried many products from Benefit and 90% of the time I seem to be disappointed by them.  I always end up feeling that the product is just ok and certainly not the high end price tag that it carries.  So when a popular UK magazine was giving away mini Benefit products early this year I decided to buy so I could try out Posietint.  Keep on reading to see how it performs.
Posietint is a cheek and lip stain and is actually a spin off shade from the original Benetint cheek and lip stain.  I have had Benetint before an quite frankly thought it was a streaky mess because the formula was too runny and it ended up looking patchy on my cheeks and lips and also left my lips feeling dry.  Because of this I was curious to see if Benefit had changed the formula as well as using a different colour for Posietint.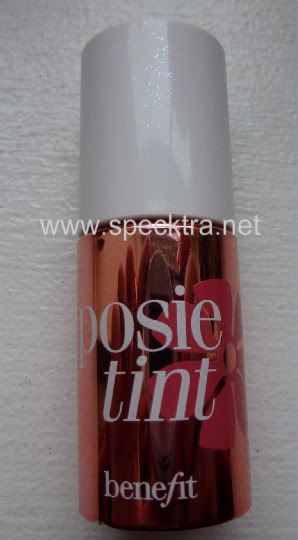 Posietint comes in a similar bottle to Benetint.  Mine of course is a mini sized one however it looks the same as the full sized version which contains 12ml for £24.50.  It can be bought from www.houseoffraser.co.uk or www.sephora.com .  It actually looks like a nail polish because it is a cylinder bottle that has a white screw cap and brush applicator.  The bottle itself is rather pretty and is a metallic pink shade. Upon opening the product you can see it is very different from Benetint.  Posietint has a gel like consistency rather than being a liquid.  This made me happy because it made it much easier to apply plus it was easier to blend when worn on the cheeks too.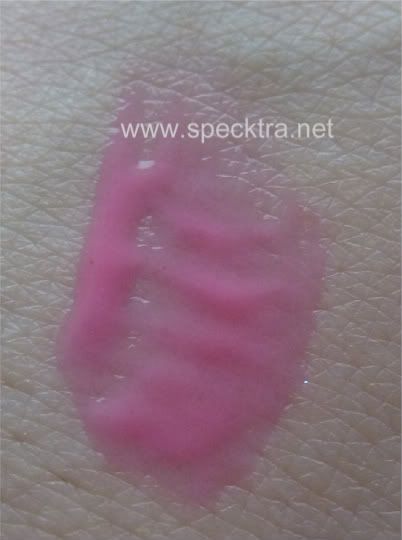 thick layer of product
The colour of Posietint is quite pretty.  Benefit say that Posietint is a 'petal pink shade' and as you can see from my swatches they are not wrong! It instantly made me think of flower petals and is a nice medium pink shade.  When worn on my cheeks I get a nice pink flush which is quite noticeable.  The problem is when I wear it on my lips.  Sadly it doesn't seem to show up on my lips at all.  At first I thought it was because I needed to add another couple of layers, however no matter how much I layer up this product you still can't actually see it on my lips! Perhaps this is because I have naturally quite pink lips anyway, but either way i was disappointed because I mainly wanted to use this as a lip stain rather than a cheek stain.  As far as lasting ability on my cheeks it lasts about six hours before fading which is really great.  I can't comment how long it lasts on the lips though because I just can't see it to begin with!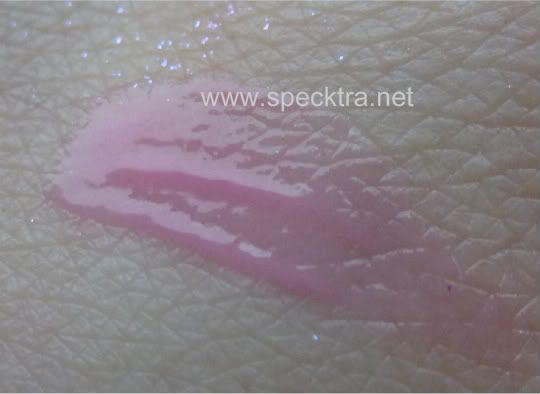 sheer layer of product
I think the brush applicator is nice for the product – you can easily brush it on your lips of you can dot it on the apples of your cheeks and then just use a clean finger to blend. I think it's a great alternative to a powder blush if you are traveling or don't have a blush brush to hand.  I also like that Benefit must have realized that Benetint was too hard to work with being so runny so this new gel like formula is much easier to blend and work with.  However I certainly won't be buying a full sized version of Posietint.  Personally I like a product to do what it says on the packet – and this just doesn't stain my lips a nice pinky colour.  I also feel that the over £20 price is far too much for this product.  Even if it did stain my lips I think that it is worth around £15 at the most.
Do you have Posietint? Does it show up on your lips or have you had the same issues that I have? Let me know in the comments below.