Shimmer's Archive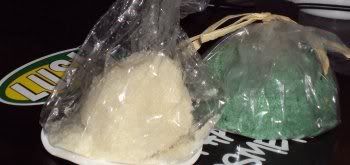 Sugar Babe, Sugar Scrub
I freely admit I've avoided ever so much as entering a LUSH store through the years, simply because I know I wouldn't leave without a dazed expression, an armful of delicious bath and body yummies, and a mission intent of spending hours in the shower.
My fears were (are) well founded it seems, as I had the privilege of trying LUSH's Sugar Scrub and Sugar Babe and oh my joy what a happy place they took me to. I have this thing I do with my boys where when I come home from work or walk into a room where they're playing, I say '1…2…3!!!' and they'll both jump on me and hang…giving me hugs and smooches. It's awesome and it's one of my favorite parts of the day. I only tell you about this because my 7 year old is the King of Candor and after I showered and scrubbed with the Sugar Babe scrub, he hugged me and stopped and said…"Mommy…you're sooooffffttttt!!!", so I KNOW this stuff is fantastic.
I have unbelievably dry skin, no matter how much water I drink, how much moisture I put on, it just never seems to be enough, so I can look kind of ashy or scaly (never flattering), and the LUSH really did seem to help with that.
Sugar Babe is a combination of Fair Trade sugar and extra virgin coconut oil, beeswax absolute, mimosa absolute, and ylang ylang. The exfoliating motions get the blood circulating, which will help with the elimination of toxins and encourage cellular turnover.
Sugar Scrub is another Fair Trade sugar concoction, filled with fresh fennel and fennel oil, lavender oil, and warming ginger. The ginger kicks up circulation while lavender oil heals and soothes.
Both are vegan friendly, both are delicious, and both are available at LUSH stores nationwide or online at Lushusa.com for $4.95!!!