Lipgloss
The holidays are a time to regroup, relax and reward your loved ones (and yourself!) with a gorgeous gift. This season Napoleon Perdis Cosmetics is offering an enchanting array of holiday-themed treats handpicked by the makeup maestro himself. Stylish, covetable and moderately priced (from $25), the limited edition "Gilty Pleasures" collection includes mini brushes, mega makeup palettes, lip glosses, eye shimmers and bronzing products. Everything is graced with the Midas touch. The palettes shine with glittering gold fabrics, the eye shimmers come in three divine metallic shades, and the lip glosses are embellished with a filigree of glistening metal. Customers who spend over $100 will also receive a gold tote bag destined to be dangling from the chicest wrists this winter. "Gilty Pleasures" is composed of affordable little luxuries—so much so that shoppers might be thinking "One for you. Two for me."
I've become a huge fan of the Napoleon Perdis line in a very short period of time…everything I've tried has netted great results, and given the ravaged state of my wallet this holiday season, the price point is nice.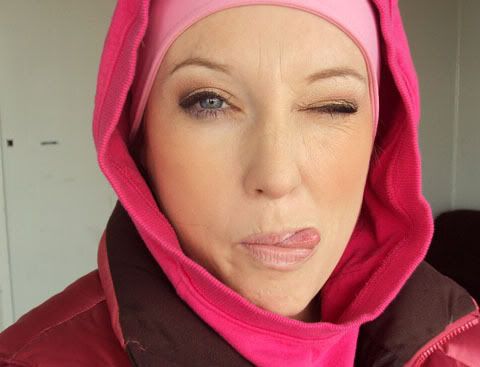 Golden Girl Palette – $45.00
All of the shadows in the Golden Girl Palette are very very pigmented and blend well…the only issue I have is that a couple of the darker ones have a bit of a tendency toward fallout, which is never fun. Then again, most darker shadows of any brand I've tried lean toward fallout, so I knew to expect it. The colors are pretty universally flattering, not too warm or too cool. There's a lovely true gold in the palette that offers SO many options for blue and green eyes. The dark grey/blue shadows go well over a base like Stila's Black Cat or MAC's Delft paint pot for some seriously sexy smokey eyes.
As far as the blushes go, they're really pigmented, I just have a problem using a blush that's in a narrow strip. I like wider, round blushes because I like a fluffy brush for application. Excepting that little quibble, hooray for pretty colors and soft blush tones and three colors varied enough to give a really three dimensional cheekbone.
Click the thumbnails for swatches!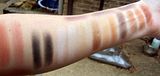 Bronze Bonanza – $39.00
This bronzer has a gold shimmer overspray, which is a bit of a turn off as I'm not a fan of over sprays, but the color is really nice. It's not too orange or cakey looking, and it's a soft bronzer that delivers just a sheer wash of color. It's also HUUUGE so it'll last even the most devoted bronzed babe.