Multi Purpose
I used the following contouring tutorial for this effect: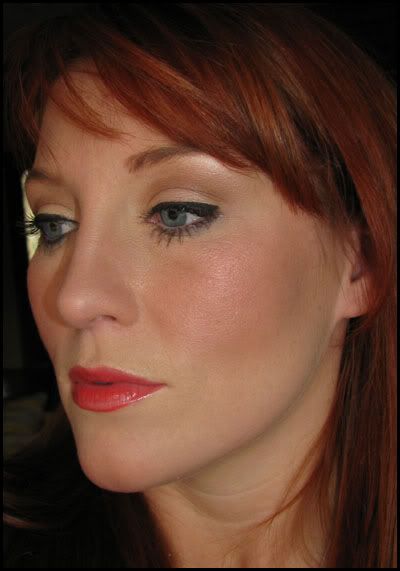 I have a friend who is amazingly gorgeous; intelligent, articulate, and fabulously beautiful. Her facial features always seem to be just perfection.
She made a tutorial for contouring that's bizarrely easy to follow (I did it today, fairly quickly too!!) and has allowed me to post it here.
I've made this into a tutorial about contouring, highlighting and concealing because the line between my highlighting and concealing isn't very sharp.

As previously mentioned, this is a walk through of how I do my personal contouring. Whenever I put makeup on somebody else the routine is different, according to their face and structure. So to begin with you need to take a good look at your naked face and sort out what you want to bring forward, what you want to hide and what you want to add.
For instance, if you already have a strong jaw line you might want to skip that bit. But instead, maybe you have a wide forehead that could be narrowed down. These techniques can be used on any part of the face (and body, for that matter) as soon as you grasp how they work.

This is what I use to achieve this particular result.

Products:

- Thick mid toned concealer (opaque, slightly lighter than the skin): MAC Studio Finish NW20
- Thin mid toned concealer (light reflecting, slightly lighter than the skin): YSL Touch© Eclat 2
- Light concealer (much lighter than the skin): Benefit Lemon-aid
- Dark concealer (the exact same color as the skin): Benefit Boi-ing 02-medium
- Liquid highlighter (subtle pinkish shimmer): Benefit High-beam
- Loose highlighter (chunkier golden shimmer): MAC Pigment Vanilla
- Pressed powder shade (muted grayish beige): MAC Blush Taupe
- Pressed powder color (light bright cool pink): Clinique Blushing Blush Iced Lotus

Tools:

- Clean warm fingers!
- Concealer brush: MAC #194
- Stripling brush: MAC #187
- Blush brush: MAC #129
- Blending brush: MAC #222
- Eye shading brush: MAC #239

Since the actual changes in shade and finish (on skin) are very subtle this will be hard to demonstrate in photos. Instead, I am going to show you where the color goes, what shape it is applied in and in which direction it is sheered out. Basic blending is assumed on all edges and with all products.

First picture will be isolated color for illustration purposes, second one will be true to life color and built application.
Everything is obviously exaggerated so that you will be able to see.
Begin: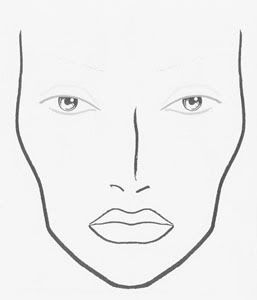 1. Your clean blank face.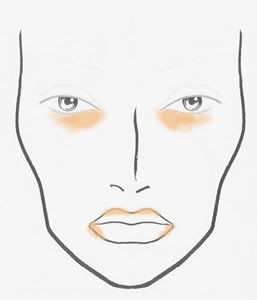 2. First, I use the opaque concealer to cover dark under eye circles (Studio Finish). It is a little bit lighter than my skin since my circles are very dark and they cancel each other out. I apply a thin layer with my fingers since I find that they melt and blend the product into the delicate skin better than any brush. Note how concealer is also applied (with a concealer brush) on some parts of the contour of the lips. This is because I like to paint inside the natural line of my lips and need to conceal the lip-pigmentation.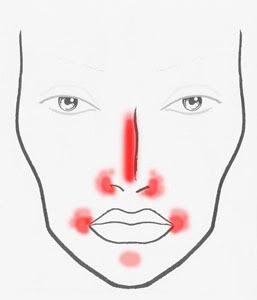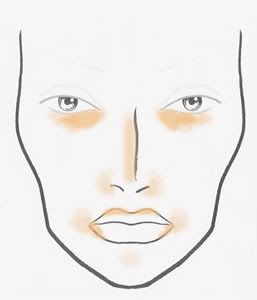 3. Second, I use the sheerer concealer/highlighter (Touch© Eclat) along the bridge of my nose, to narrow it down, around my nostrils, to reduce the pinkish "bunny nose", in the corners of my mouth, since they are slightly darker, and in the middle of my chin, to make it look more projected. Just like with every step, product is blended into the skin so that no edges are obvious. I use the built in brush to both apply and blend.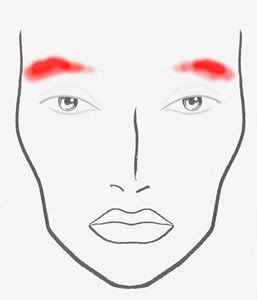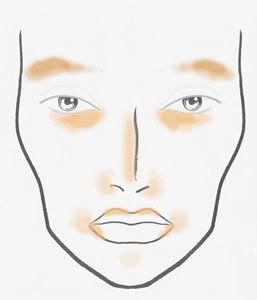 4. Now, I use the "dark" concealer on my brow bone (Boi-ing). This concealer is an exact match to my skin and effectively covers the unnaturally white skin on my brow bone (it never tans or catches up with the rest of my face). Using a thick concealer here is also good if the skin is uneven in texture.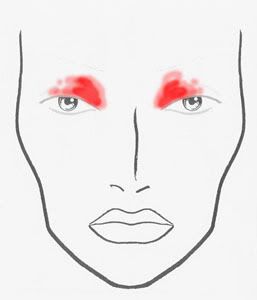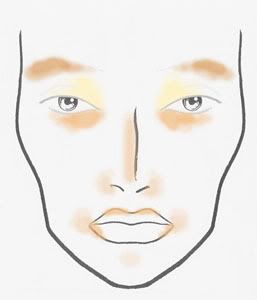 5. Next is the upper lid. I use a very light concealer with a yellow tint (Lemon-aid). It neutralizes the redness and little veins. Since I have discoloration in my lower lid it is natural for the same to be true on the upper. If your lids are smooth and perfect this is totally unnecessary.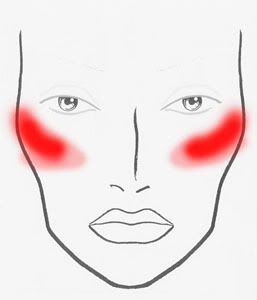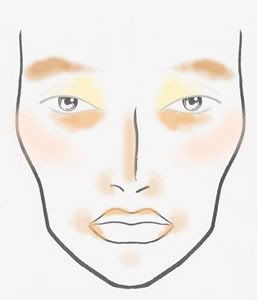 6. Now it's time for the cheekbones. I apply a liquid highlighter (High-beam) with the built in applicator in a sweeping motion under the eyes and towards the hairline. Be sure to quickly blend this one with your fingers as it dries fast and becomes immovable. I don't suggest to use this product on say the bridge of the nose, but rather on large open spaces that are free from other products.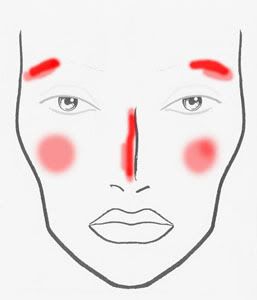 7. Once the liquid highlighter is dry I like to use a loose powder highlighter on top (Vanilla Pigment). Applied with a stripling brush on the apple of the cheeks and lightly patted along the previous highlighter. A small brush is used to apply the very same product on brow bones and verrry lightly along the bridge of the nose, doing an even narrower line than the last time. Additionally, you can dab the same brush on the middle of you upper lid for roundness (I just forgot to paint this one out).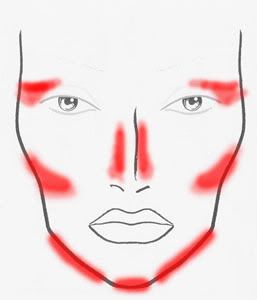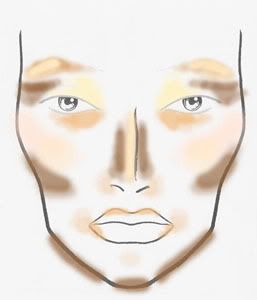 8. Now for the fun part! Contouring (shading) can be rather flat and dull without the highlighting, but in the end, contouring is what makes the most difference. A pressed powder blush (Taupe) is brushed and built in the hollows of the cheeks. When you extend this color, do so down, not up. Make sure it doesn't just stop, either. Same blush brush applies this shade along the jawline, but from below. Making it look sharper and more defined. If something can make you look like a million bucks, it'll be a strong jaw, believe me.
Next, a small fluffy brush contours the nose lightly. Try to accentuate the natural bone rather than adding something that isn't there. For a narrower nose, contour the sides. For a shorter one, contour from below.
Lastly, the crease of the eye is defined. Sweep up and out at the outer corners.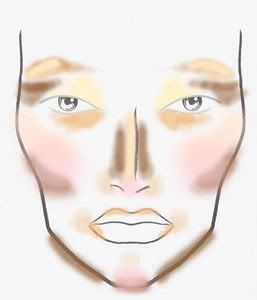 9. My final step is a touch of flushed natural pink. I apply it gently to the apple of the cheeks, where I would naturally blush, as well as to the tip of the nose and chin, where I would flush in a cold climate. Why? Simply because it's a cute touch and I like how it looks/adds dimension. Same thing could be done but imitating a light sun burn rather than cold weather. In that case, brush your color of choice (pink or red for a freshly sun kissed look, bronzer for a tan) horizontally across the nose, extending onto the cheeks. In other words: where the sun would naturally hit you.
Thanks babeh for making this for us! I appreciate it!!!
If y'all found this useful, show us some love on the Sugar Network!