Black Diamond Mascara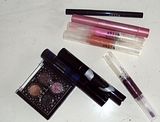 Check out the pics of Stila's spring collection. I've been wearing most of it every day, and I friggen LOVE it. I've gotten lots of compliments on the lipglazes, and I really like them because they're not (IMO) as sticky as other brands are/can be when they add glitter.
Enjoy, and if you have any questions, or if you've got any of these pieces and want to share your impressions, please do!