makeup art cosmetics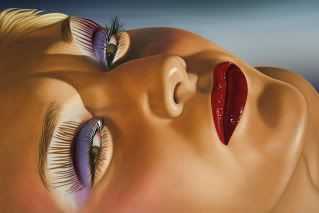 Andy Warhol did a cameo on The Love Boat in 1985…and in the same spirit, Richard Phillips' 1998 painting, Spectrum, made its debut on the scandelous Gossip Girl – a sign of the times! Need we say more? Recylced and re-imagined '50s,'60s, and '70s ads and images, and every colourful issue ever considered when pondering the question of "identity" is what Richard Phillips is all about. Highly technical, a refinement of precise, academic painting, his bold and beautiful portraits seem so relevant to everything MAC artistry is all about. A collection of eye shadow quads, lipsticks, Lipglass, and The Perfect Cheek Blush just leap off the canvas!

L-R: Full Body, Hold the Pose, Front Lit, Lovin' It, High Strung
Lipsticks: $14.00USD

Full Body – Deep red plum (Lustre) (LE)
Hold the Pose – Brown plum with gold pearl (Lustre) (LE)
Front Lit – Light white yellow (Frost) (LE)
Lovin It – Cool neutral with yellow undertone (Lustre) (LE)
High Strung – A deep pink silver (Frost) (Permanent)
Click "Read More" below for additional product and swatch pics…..


L-R: On Display, New Spirit, Personal Taste, Young Thing
Lipglass: $14.00USD

On Display – Purple with yellow pearl (LE)
New Spirit – Light yellow coral (LE)
Personal Taste – Mid-tone rose with pink gold pearl (LE)
Young Thing – Yellow neutral with gold pearl (LE)

Photo Realism
Photo Realism: $36.00USD (LE)

Photorealism – Gold shimmer with gold pearl (Frost)
Fresh Approach – Cool mint green (Veluxe Pearl)
Image Maker – Mid-tone grey green (Frost)
Grey Range – Deep blue green (Veluxe Pearl)

In the Gallery
In the Gallery: $36.00USD (LE)

Lightfall – Pale pink (Satin)
Look at the Eyes – Light violet
In the Gallery – Mid-tone blue pink (Matte)
Private viewing – Deep brown plum (Matte)

Notoriety
Notoriety: $36.00USD (LE)

Skintone 1- Light white pink (Lustre)
Skintone 2- Mid tone gold (Frost)
Noteriety – Mid tone brown with gold pearl (Velvet)
Rich & Earthy – Rich coral bronze (Veluxe Pearl)
Mascara: (Permanent) $12.00USD

Plushlash Mascara in Plushblack – True black

Perfect Cheek, Notable
Powder Blush: $18.00

The Perfect Cheek – Mid-tone pale pink (Matte) (LE)
Notable – mid-tone brick brown red (Satin) (LE)
I am in quad heaven. My heart is thumping over the thought of Full Body lipstick with the Photo Realism quad. What's inspiring you?