Stila

November is going to be a big month for my lovely fellow Stila girls…because Stila will be unveiling their Beauty 4.0 platform. "Beauty 4.0 was created to empower women to have fun and experiment with cosmetics. Stila is embracing technology to educate, entertain and empower Stila Girls everywhere with the same tips used by the Stila Pros.", says Deanna Kangas, CEO and President of Stila Cosmetics.

Stila's building a beauty library, ever changing and growing, and ever accessible through Stila Beautytube, YouTube, or as podcast via iTunes. Stila is partnering with beauty bloggers (including yours truly) throughout the cosmetics community to bring you the latest in beauty news and tricks.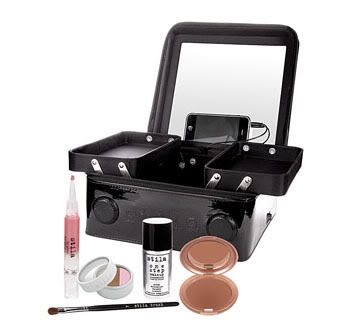 One of the more exciting things about the new platform is Stila's new makeup player. Part traincase, part speaker system, the Makeup Player is loaded with the essentials:
• NEW One Step Foundation (choice of four shades- Fair, Light, Medium and Dark)
• NEW Eye Shadow Trio in neutral shades complete with an aluminum compact
• Convertible Color in Camellia (for fair and light complexions) or
Convertible Color in Rose (for medium and dark complexions)
• Lip Glaze in Grapefruit
• #7 Eye Shadow Brush
• Instructional DVD
Stila's new One Step Makeup is designed to deliver one revolutionary, high performance, high definition, long wearing, complexion perfecting product. I haven't tried it yet, but when I do, I'm definitely sharing my thoughts.
I'm excited to jump into all of this, and I can't wait to see where this goes and see the participation from Stila girls everywhere!