I'm so in the mood for fall colors, and I played with all my dark lipsticks/glosses to keep myself from hauling ALL of CoC! Here's one of my faves...
Obligatory ugly bare face shot:
MAC's Studio Corrector in Peach- really helps my nasty dark circles. I always start with it on the tear duct, because my darkness originates there!
Studio Fix NC15 concealer over that-
Studio Fix NC15 mixed with the old PX Magic Primer Potion (a gorgeous illuminator, sadly discontinued- Strobe liquid is close) all over-
My secret weapon- Benefit Powderflage!! Really deflects darkness from under my eyes, I love this stuff- it's just a finely milled powder brushed on top of your regular makeup!
See the difference it makes?
And Bare Study paintpot all over the eye-
With Your Ladyship pigment from lashline to brow-
Sweet Sienna, pre-blending- just a nice big V on the outer lid, coming in further to the crease-
Blended smoothly with downward motions-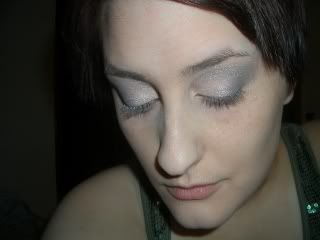 Add Earthline e/l, mascara (I'm in love with Estee Lauder Sumptuous mascara), and fill in those brows-
Making the classic fishface, add Salsarose blush to your cheekbones with a skunk brush- seriously, if you don't use a skunk brush, this blush is NEON-
Dust on some Dancing Light Loose Beauty Powder for shimmer-
Add a coat of Rougette Mattene lipstick-
And a coat of Chanel Vamp over that-
And because I'm proud to be a dazzleglass bimbo, add some Get Rich Quick! dazzleglass on top!
And that's all, folks!