Just call me.. Jem... Im truly outrageous.
So a while back I posted a tut on how I got my hair so white. About a week ago, I did some pink underneath my layers.. I am so in looove with it.
But I almost did the unthinkable... I almost went brunette on top.. I even bought the stuff... and then I couldnt do it.. Im just... a blonde... Hell, even my 4 wheeler is personalized... "BlondeMafia" is on it.. (btw.. its wicked.. white, with glitter and pink racks.. people think Im wayy to girly on it.. until they see me do a wheelie in the mud, make up never smears.. I'll post pics when it comes back from the shop, Im having pink led's put in it and some other painting work done.. but I digress...)
I couldnt do it.. I couldnt go brown. I looove brown hair, on other people. Its just not for me.
But we finally got a new camera, since our other one was stolen the other day, and took pics of my hair..
Please... excuse the ginormous pimple and what seems to be a double chin. This is after a loooong day and the hair is.. ugh, but you can see the color!!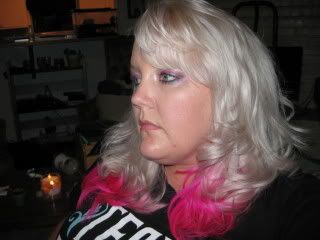 Other people either love it, or hate it, but I love it. I have been doing weird things with my hair since before manic panic, and you had to use koolaide to do it.. HAHA.. I have just not done it in years. I love it!!