Colour Craft Collection
09 Jul 2009 [US/Canada]
UNK 2009 [international]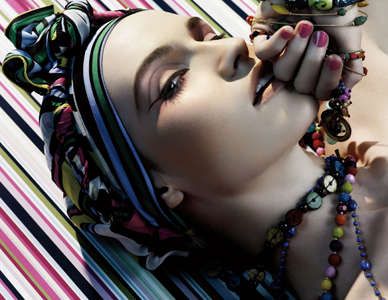 Lipstick:
(All LE) $14.00USD
Madly Creative - Pink neutral with white pearl (Frost)
Ever Embellish - Plum brown with red pearl (Lustre)
Made with Love - Bright coral pink (Lustre)
Colour Crafted - Milky pink (Frost)
Trimming Talk - Bright fuschia (Frost)
Most Popular - Purple with yellow undertone (Lustre) (Repromote: Hello Kitty)
Lipglass:
(All LE) $14.00USD
These have a new marbled texture. They contain three colors that mix into one.
Pretty Pattern - Warm mid-tone beige
Crazy Haute - Blue pink
Nice Mix Up - Burnt ginger
Funky Fusion - Pink coral
Eclectic Edge - Cool violet
Miss Marble - Muted pink
Mineralize Skinfinish:
(All LE) - $27.00USD
Three of these are the regular MSF design and three are "striped" with three different complimentary colours.
Sunny by Nature- Rich bronze with pink pearl pigment
Cheeky Bronze - Soft golden coral wth bronze pearl
Porcelain Pink - Soft pinky coral wth gold veining (Repromote: Gold Play and A Muse)
Triple Fusion - Left: Soft champagne gold / Center: Soft golden peach / Right: Rose pink with gold nuances
Smooth Merge - Left: Soft champange pink / Center: Deep rose / Right: Pale cool pink
Warm Blend - Left: Antique gold / Center: Mahogany Bronze / Right: Copper
Mineralize Eyeshadows:
(All LE) - $19.00USD
These are a "pinwheel" design that incorporate 4 shades into one pan.
Assemblage - White with silver pearl / Deep grey / Black with silver glitter / Warm yellow gold
Odd Bits - Mid-tone silver grey / Dusty rose with gold pearl / Dark burgundy/ Peachy bronze
Fashion Patch - Ice blue / Off white / Black with silver glitter / Light white pink
Eccentricity - Rich gold / Light violet / Deep plum/ Rich bronze
Natural Flare - Copper / Yellow orange / Mid-tone brown / Rich gold
Girlish Romp - Mid-tone violet / Yellow white with gold pearl / Light pastel coral / Mid-tone pink
Mineralize Blush:
(All LE) $21.00USD
Hand-Finish - Light pink with deep gold veining
Fab-dabulous - Mid-tone burnt coral with yellow gold veining
Daft Pink - Deep blue pink with light white gold veining
Improvise - Mid-tone neutral coral with light white yellow gold veining
Cheek & Cheerful - Mid-tone bronzy brown with yellow gold veining
Style Demon - Mid-tone brick red with copper veining
Brush:
#226 Small Tapered Blending Brush - Small tapered blending brush (LE) $24.50USD (Repromote from Brunette Blonde Redhead)


#109 Small Contour Brush - Use on the face to apply, blend or contour powder products. Softly rounded dome tip delivers just enough colour; smoothly blends colour into the face. Of natural fibres. (Permanent) - $32.00USD


#131 Brush - Flat tapered face brush with short natural hairs and long synthetic fibres (LE)
Check out the
Colour Craft Discussion
for the latest spicy dish.
Get your swatch fix with
Colour Craft Swatches
.
Confused about all of the upcoming release dates? Check out
Specktra's condensed release date bulletin
.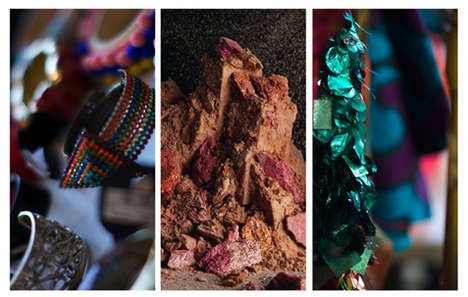 If you publish content/information obtained from this resource, please credit appropriately. Plagiarism isn't cool, the content authors appreciate it!

Colour Collection/Image Credit:
Specktra.net/Photo
: Trendhunter.com