I'm bad. On a whim purchase, I just bought these grey suede over the knee boots:
They were the
LAST PAIR
, and only 65 dollars opposed to the regular 140. I REALLY wanted them in black but just could NOT afford to shell out 140 dollars for them

Alas, I am determined to figure out what to wear with them! But I am fresh out of ideas. I don't even know what wash of jeans would look good with them

Drawing inspiration from Gossip Girl, I found this: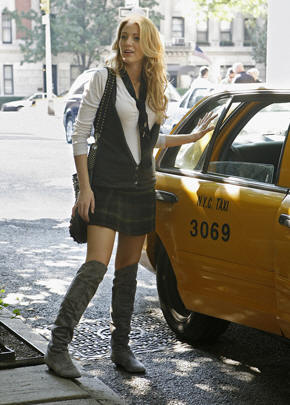 But...I don't think I'd wear that to school :P
I have a few questions -
Does anyone know what colored jeans these would go good with?
White would look fine, although I don't own white jeans (gotta get a pair..) but what color wash?
How about tops? I am thinking basic white or grey sweaters, maybe striped (thinking along the lines of american apparel..for some resaon black isn't really doing it for me..) or maybe a sweater dress. That is all I can think of for now.
Any suggsetions?? TIA!!
When I make a bit more money this summer, I am TOTALLY going to buy them in black too

well, maybe...I need to save up for other things.