i don't think mac announced this, but i went to the counter today and saw the pigments, some of them looked really different, so i swatched all the ones they had. right away, i can tell that old gold and teal are nothing like the original color.

the new teal is like the ones from holiday 2008 set. they are more green, matte with silver sheen floating on top. and old gold just looked wrong...
as far as i can tell, golden olive is quite different too (it's more olive and less green). but i didn't ask for a sample, so i don't know for sure.
kitschmas is like the original LE release, not like the version from regular line. although the difference is minor
copper sparkle is more reddish and slightly darker and smoother, so it's more like rushmetal than the original copper sparkle
a few other colors (like violet and cornflower) also looked a little different, but that might just be b/c the sheen was rubbing off b/c i was outside (44 degrees with humidex, that's about 110 farenheit!) for 20 minutes. i'll probably go to the store one of these days and bring my pigments with me to compare. and my counter only has a very limited selection of pigments, i wonder what happened to the ones i haven't seen. sigh... i'm NOT happy about this

anyhoo, for your viewing pleasure, here are the comparison swatches of original and new old gold + teal. i bought the new teal and got a sample of old gold, so these are swatched at the same time after i got home. everything is swatched dry over dampened skin
old gold (original version on the right, new version on the left)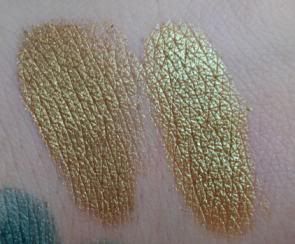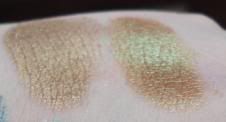 teal (original on the left, holiday 2008 in the middle, the new version on the right)