Hi everyone! Sorry, I'm fairly new to actually posting on the boards, so if this the wrong forum, the mods can move it wherever they want!
I don't know if anyone has ever posted this, but I thought it might be helpful for those with a MAC Student Pro Card, or who are interested in getting one.
The student discount is only 20%, but MAC offers a student color kit and student tool kit at 40% off. I ordered both kits, since the only MAC brushes I have are the 187 and the ones in those crappy holiday sets...and I definitely don't have enough foundations, concealers, blushes, etc. for other skintones. Anyway, I calculated the retail cost (with 15% tax here in Ontario...BOO), and it would've cost $1675.56CAD for both kits, but I actually got both for $817.08CAD (I was saving A WHILE before I ordered this). Shipping only cost me about $10CAD, and I got it the NEXT day. I'd like to think of this more as an investement, rather than a haul for me =P Anyway, here's what's in the kits:
MAC Pro Student Color Kit:
-MAC Briefcase - PRO
-Select Cover-Up Concealer: NW15, NW25, NC42, NW50
-Invisible Set Powder – PRO
-Face & Body Foundation: C2, C4, C6, N3, N9
-Blush Pro Palette Case
-Blush Pans: Peaches, Harmony, Blushbaby, Hushabye, Razin, Pink Swoon
-Eye Shadow Pro Palette Case
-Eye Shadow Pans: Vanilla, Orb Eye, Seedy Pearl, Motif Eye, Paradisco, Satin Taupe, Brown Down, Trax, Sketch, Nocturnelle, Deep Truth, Steamy Eye, Greensmoke, Scene, Carbon
-Eye Kohls: Blooz, Tarnish, Smolder, Teddy, Prunella
- Coal Black Pro Lash
-Lipsticks: Twig, O, Del Rio, See Sheer, Media, Russian Red, CB-96
-Lip Pencils: Plum, Chicory, Mahogany, Spice
-Clear Lipglass
MAC Pro Student Tool Kit:
Brush Clutch, #102 Brow Comb, #129 Powder/Blush, #150 Large Powder, #190 Foundation, #194 Concealer, #213 Fluff, #224 Tapered Blending, #242 Shader/Large Shadow, #266 Small Angle, #316 Lip (Covered), Universal Tweezer – PRO, Large Round Sponge – PRO, Lash Curler
This is what the case looks like open:
And after I took everything out:
MAC Briefcase closed:
Here's the tool kit: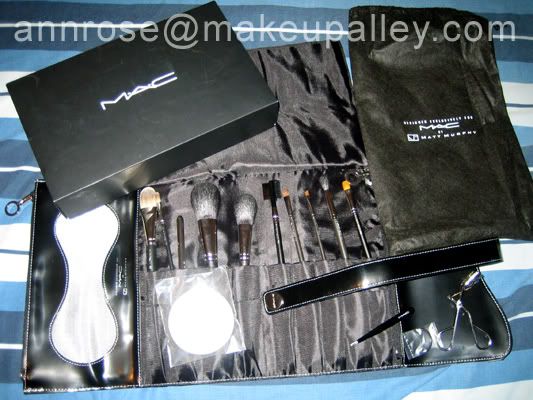 Thanks for reading! I definitely won't be shopping for a loooong time!