I decided to update my collection post! So this is it as of February 28th 2008!!! There are over 90 pictures!! Also the pictures are large. =/ PLEASE DO NOT COPY THESE PICS and use them on Ebay (or anywhere) without my permission!! Someone did this last time I posted and used it for an Ebay auction! It's just NOT right. I understand wanting to use them for on-line galleries so just ask (PM me.) Please DO NOT hotlink! Thanks!!
I will continue updating...hopefully. =) Onto the make-up....
My collection has grown so much!! Here's what I had in the summer of 06
ambonee - UPDATED COLLECTION 8/06 (4 my records)
a lot I know, hard to believe it's grown even larger...
Permanent Pigments:
Row 1: Basic Red, Bright Fuchsia, Electric Coral, Acid Orange, Copper Sparkle, Pink Bronze, Melon, Genuine Orange, Dusty Coral.
Row 2: Golden Lemon, Primary Yellow, True Chartreuse, Chartreuse, Golden Olive, Kelly Green, Landscape Green, Emerald Green, Green Brown.
Row 3: Deep Blue Green, Teal, Steel Blue, Clear Sky Blue, Cornflower, Marine Ultra, Naval Blue, French Violet, Violet.
Row 4: Rich Purple, Burnt Burgundy, Grape, Nocturnelle Plum, Deep Purple, Blue Brown, Pink Pearl, Cool Pink, Pink Vivid.
Row 1: Rose, Ruby Red, Fuchsia, Kitschmas, Polished Ivory, Vanilla.
Row 2: Pink Opal, Frozen White, Pure White, Frost, White Gold, Fairylite.
Row 3: Naked, Tan, Chocolate Brown, Deep Brown, Old Gold, Black Black.
Row 4:Silver Fog, Silver, Platinum, Rose Gold, Gold, Copper.
Discontinued/Limited Pigments
Row 1: Bright Coral, Orange, Rushmetal, Off the Radar, Gold Dusk, Night Light, Golders Green, Pastorale, Green (frost).
Row 2: Turquoise, Turquoise, Forest Green, Aire De Blue, Azreal Blue, Softwashed Grey, Light Blue, Blue (original), Blue (RR).
Row 3: Royal Blue, Blue Storm, Viz A Violet, Quietly, Smoke Signal, Entramauve, Helium, Lovely Lily, All Girl.
Row 4: Apricot Pink, Pink Mauved, Accent Red, Pink, Maroon, Reved-up, Lily White, Shimmertime, Your Ladyship.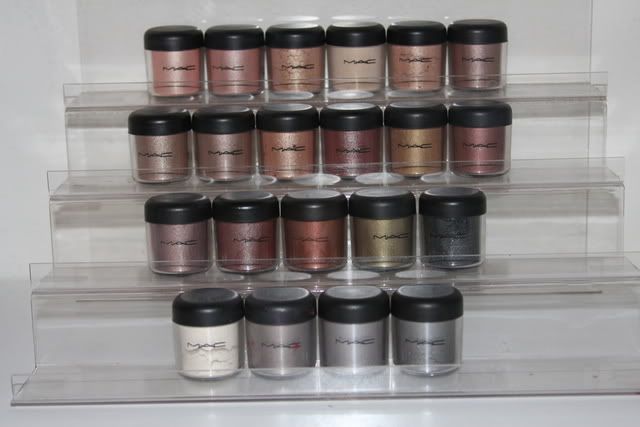 Row 1: Deckchair, Goldenaire, Dazzleray, Provence, Jardin Aires, Subtle.
Row 2: Sunnydaze, Coco, Gold Mode, Sunpepper, Cocomotion, Gold Stroke.
Row 3: Mauvement, Copperclast, Coco Beach, Copperized, Dark Soul.
Row 4: Quick Frost, Sweet Sienna, Soft Washed, Silver (frost).
Glitters/Reflects/All Over Glosses/Shimmer Souffles
Row 1: Red (chunky), Blackened Red, Reflects Copper, Crystalled Orange, Rockin' Orange, Copper, 3D Copper, 3D Gold, Lustdust.
Row 2: Marigold, Absolute Gold (C), Crystalled Yellow, Gold Garnish (C), Crystalled Lime, Turquoise, Jewel Marine, Light Blue, Blue.
Row 3: Reflects Purple Duo, Crystalled Purple, Jam Session, Fuchsia, Purplette (C), Crystalled Pink, Reflects Very Pink, Hottest Pink (C), Pink.
Row 4: Reflects Pearl, Reflects Red, Reflects Transparent Teal, Reflects Gold, Sifted Silver (C), Gold Drift (C), 3D Silver, Grey, Black (chunky).
Row 5: Reflects Antiqued Gold, Bronze (chunky), Frost Warming (AOG), Astonish (AOG), Fantastical (AOG), Adorn (SS), Goldmouse (SS), Shimmerati (SS).
<center> Beauty Powders/Bronzers/Irridecent Pressed Powder </center>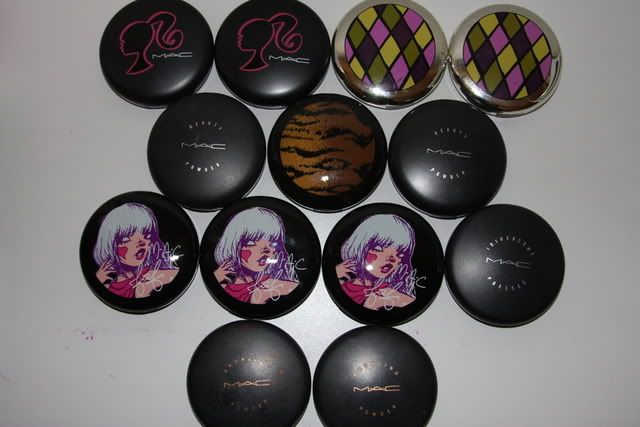 Eyeshadows: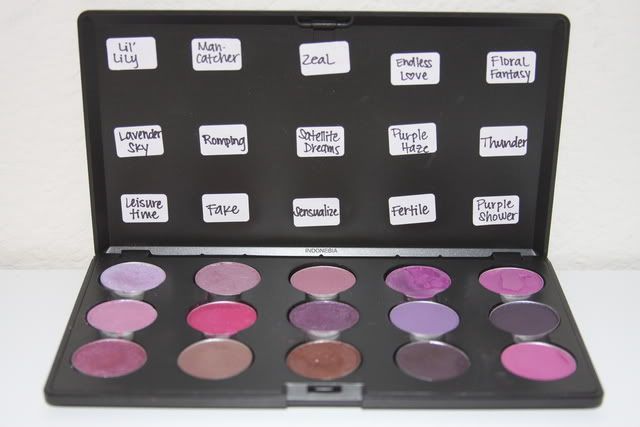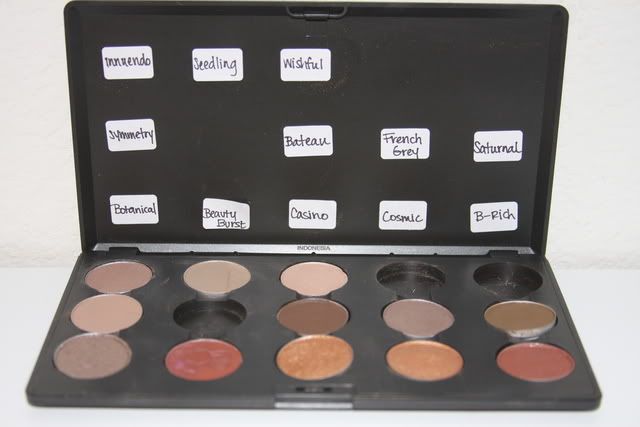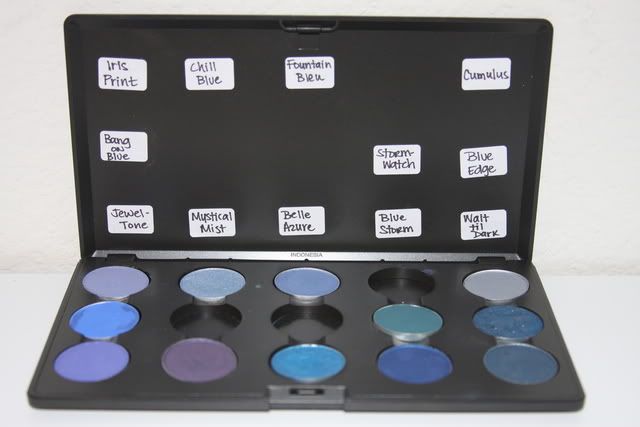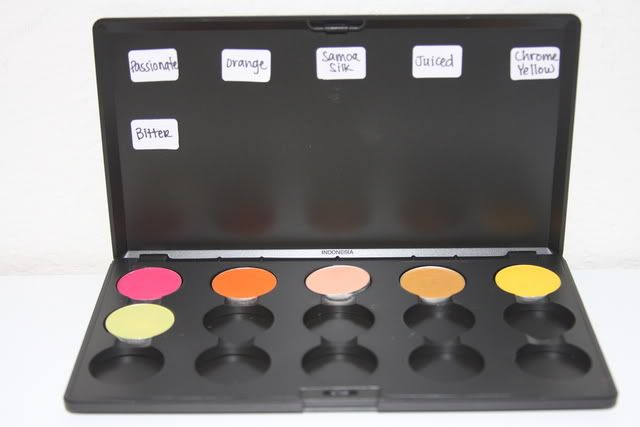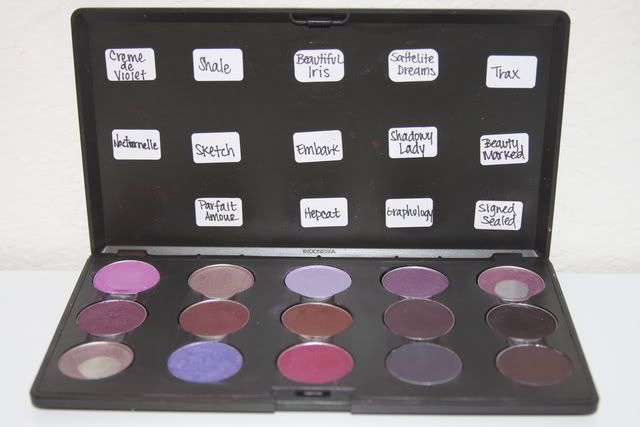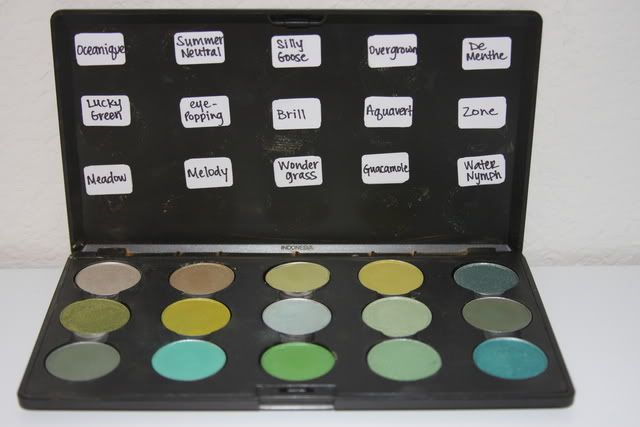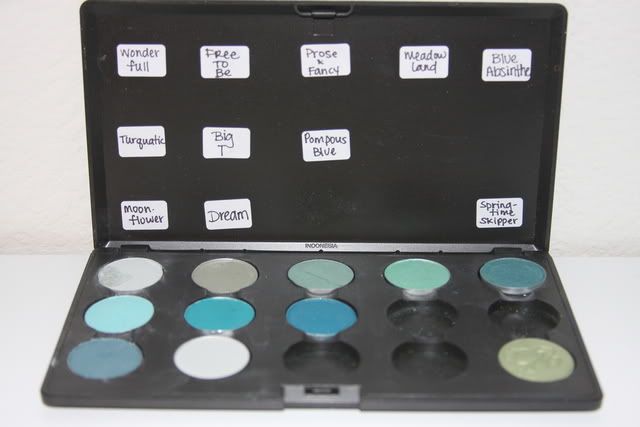 Eyeshadows to Depot
Row 1: Charred, Clue, Frisco, Memerobilia
Row 2: A little Folie, Bio Green, Bottle Green, Daisychain
Row 3: Dark Edge, Fig 1, Modest Tone, Nano Gold
Row 4: Neutral Pink, Nocturnelle, Ochre Style, Parrot
Row 5: Poisen Pen, Poste Haste, Remotely Grey, Rich Flesh.
Row 6: Vibrant Grape
Premade Quads
Row 1: Amazon, 4 Beau, Boudoir, Chromezone 1, Chromezone 3.
Row 2: Corps de Colour, Dollymix, Fafi Eyes 1, Fafi Eyes 2.
Row 3: Gentle Fume, Inventive, Liza PM, Pandamonium, Showflower.
Row 4: Smoking Eyes, Sultress, Summerwear, Sweetie Cakes.
Row 5: Take Wing, Thunder Eyes, Wel Plumed.
Rare Shadows
<center>
Row 1: Chroma Green Garter, Chroma Purple Python, Riot, Melody, Chroma Copper Cobra, Chroma Sinful Serpent.
Row 2: Phase Riot, Melody, Limit.
(I also have the 3 McQueen Shadows but forgot to photograph them =/)
Mineralized Eye Shadows & Metal X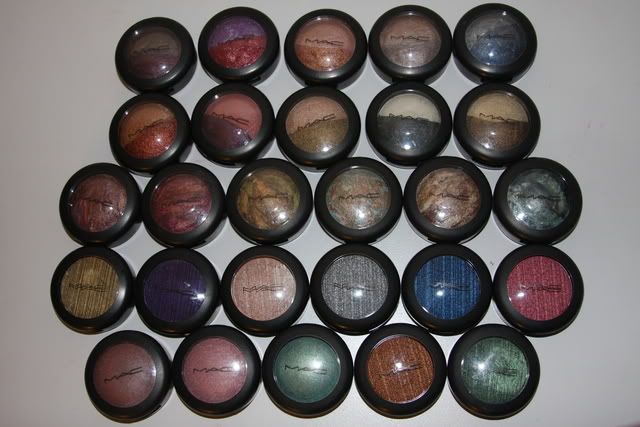 Row 1: Earthy Riches, Mi'Lady, Engaging, Family Silver, Silversmith.
Row 2: Heat/Element, Interview/Purple-X, Brightside/Gallery Girl, Persona/Screen Vinyl, Illusionary/Burning Ambition.
Row 3: Mercurial, Lovestone, Tectonic, Quarry, By Jupiter, Ether.
Row 4: Pure Ore, Plum Electric, Fusion Gold, Cyber, Metalblu, Pink Ingot.
Row 5: Aristocrat, Little Maddam, Tres Teal, Goldspice, 6th Sin.
Paints: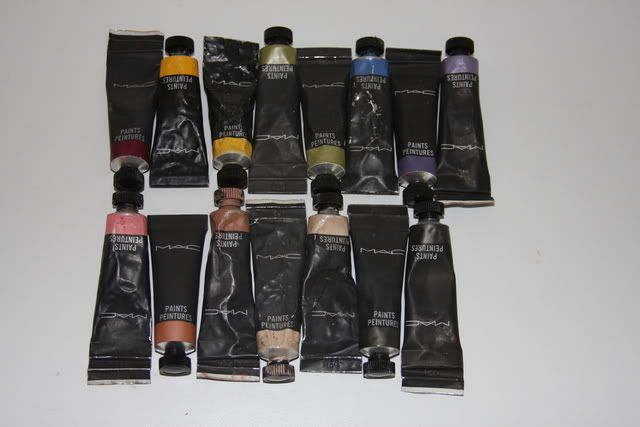 Row 1: Flammable, Hot & Sour x2, Chartru x2, Blueboy, Matisserie, Mauvism.
Row 2: Canton Candy, Bamboom, Tan Ray, Bare Canvas x2, Graphito, Existential.
Paintpots:
Row 1: Nice Vice, Perky, Rubenesque, Electrosky, Otherworldly, Pharoah.
Row 2: Barre Study, Painterly, Soft Ochre, Indianwood, Rubenesque, Blackground.
Shadesticks:
Crimsonaire, Mangomix, Corn, Shimmermint, Lucky Jade, Sea Me, Silverbleu, Royal Hue, Sharkskin, Beigeing, Gracious Me, Taupographic, Sea Me.
Color Cream Bases: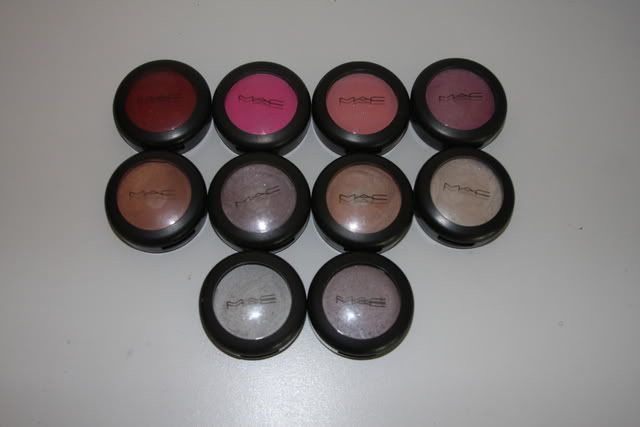 Row 1: Reel Red, Pink Shock, Fantastic Plastic, Fuchsia Perfect.
Row 2: Impropper Copper, Kool, Hush, Luna.
Row 3: Silver, Illustrious.
Fluidline: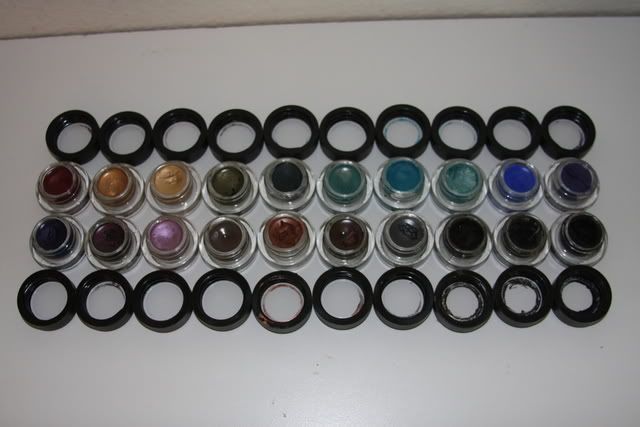 Row 1: Delineate, Brassy, Uppity, New Weed, Penned, Jadeye, Blue Peep, Delphic, Royal Wink, Non-Conformist.
Row 2: Waveline, Macroviolet, Haunting, Ostentatious, Rich Ground, Graphic Brown, Lithograph, Blitz & Glitz, Nightfish, Blacktrack.
Eyeliners:
Eye Kohls/Kohl Powers/Soft Sparkle Pencils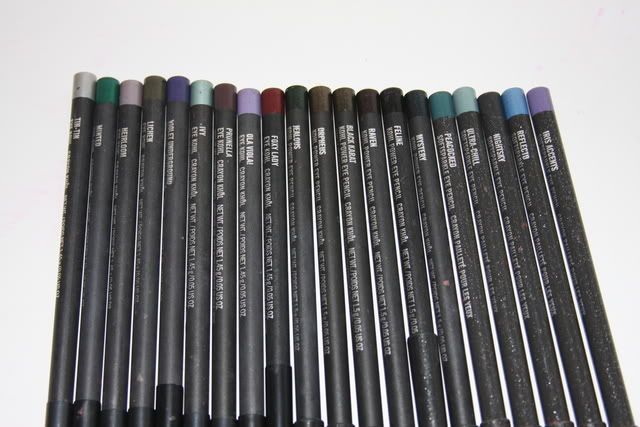 Tin Tin, Minted, Heirloom, Lichen, Violet Underground, Ivy, Prunella, Ola Viola!, Foxy Lady, Jealous, Orpheus, Black Karat, Raven, Feline, Mystery, Peacocked, Ultra Chill, Nightsky, Reflecto, Iris Accent.
Eye Pencils/Technakohls/Power Points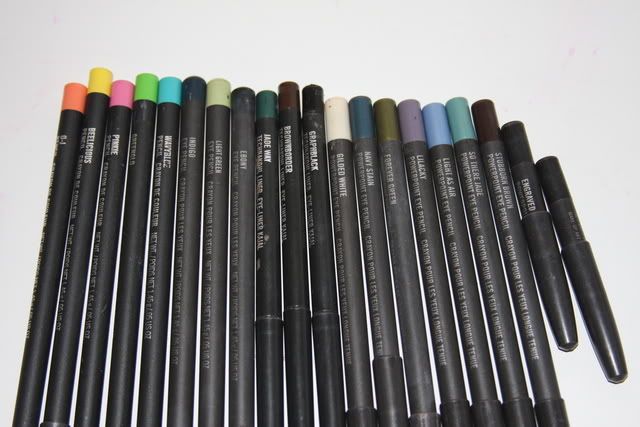 OJ, Beelicious, Pinkie, Greenglo, Wavyblue, Indigo, Light Green, Ebony, Jade Way, Brownboarder, Graphblack, Gilded White, Navy Stain, Forever Green, Lilacky, Light as Air, So There Jade, Stubborn Brown, Engraved.
Glitter Liners: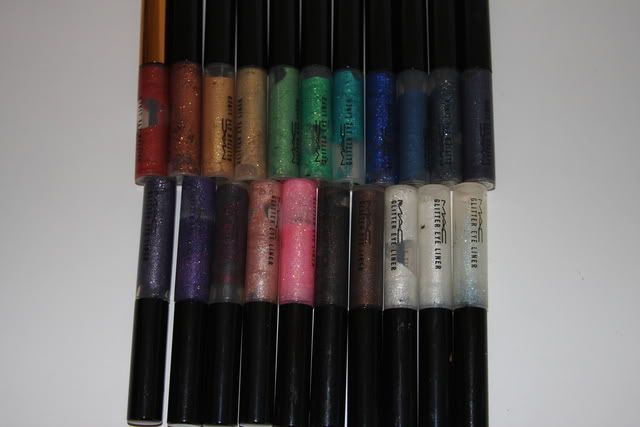 Row 1: Copperfield, Sunbrown, Blitz, Glamourgold, Lime Dandy, Divine Lime, Peacocky, Saucepot, For the Boys, Mercuric, Pewter Pink.
Row 2: Saucepot, Shimmerline, Postpunk, Pinkphonic, Pinky Wink, Oxidate, Embronze, Spunsilver, Wonderwhite, Sparkleize.
Liquidlasts: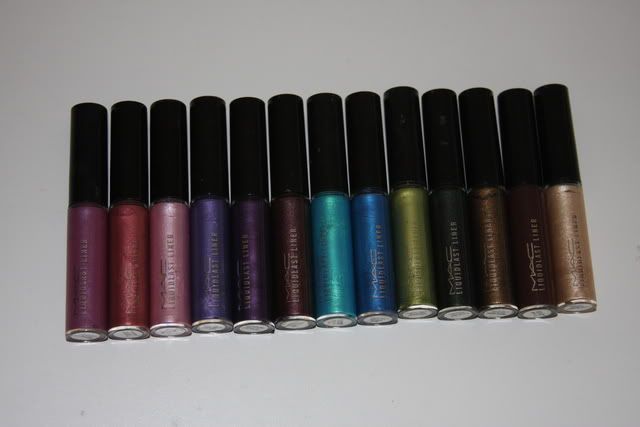 Fuchsiaism, Pinkcraft, Visionaire, Pop Iris, Electrolady, Power Plum, Aqualine, Blue Horizon, Green Play, Inkspill, Dress Khaki, Coco Bar, Classic Cream.
Lipsticks Limited/Discontiued
Row 1: 1N, 2N, 3N, 4N, 5N, Archetype, Awaken, Back to Del Rio, Blast O Blue, Blonde on Blonde, Blueberry Fizz, Bourbon, Charm Factor, Classy Pink.
Row 2: Coppertime, Culturebloom, Eclipse, Flash N Dash, Florabundi, Frozen White, Fun & Sexy, Guilty Kiss, Glam, Glamapuss, Goddess, Her Fancy, High Top.
Row 3: Honeymoon, Jet, Love Henri, Lure, Mauvellous, Martooni, Masque, Modern Ms, Moxie, Not So Innocent, Orchidazzle, Out to Shock, Overich, Pink Cabana.
Row 4: Pink Maribu, Pink Poodle, Pomposity, Poppy Hop, Queens Sin, Real Doll, Rich Reserve, Rocker, Rocking Chick, Rockocco, Rozz Revival, Rubia, Sharp Beige, Solar Plum.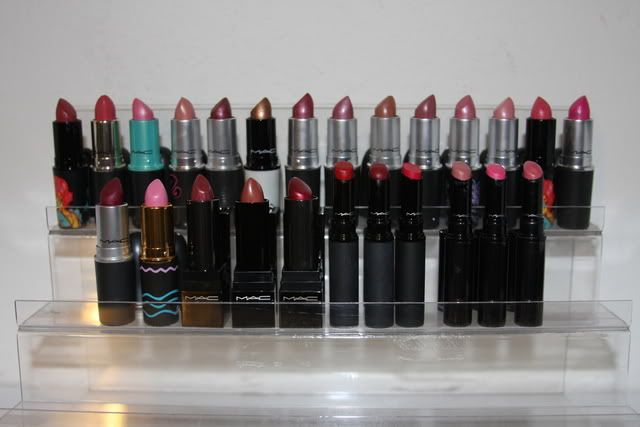 Row 1:Strawbaby, Strawberry Blonde, Stroke of Lust, Style it up, Sundressing, Sunmetal, Super Sequin, Sweet & Single, Teddy Babe, Twig, Twig, Upluxe, Utter Pervette, Utterly Frivolous, Vivacious.
Row 2: Wild about You, Zandra, Couture, In Vogue, Red No. 5.
Lipsticks Permanent:
Row 1: Angel, Blankety, Bronze Shimmer, Chatterbox, Delish, Fresh Moroccan, Girl About Town.
Row 2: Hue, Hug Me, Kinda Sexy, Lip Treatment, MAC Red, Odyssey, Peachstock.
Row 3: Photo, Rebel, Neon Orange, Sin, Underplay, Up the Amp, Verve.
Row 4: VGI, VGII, VGIII, VGIV, VGV, VGVI.
Lipliners: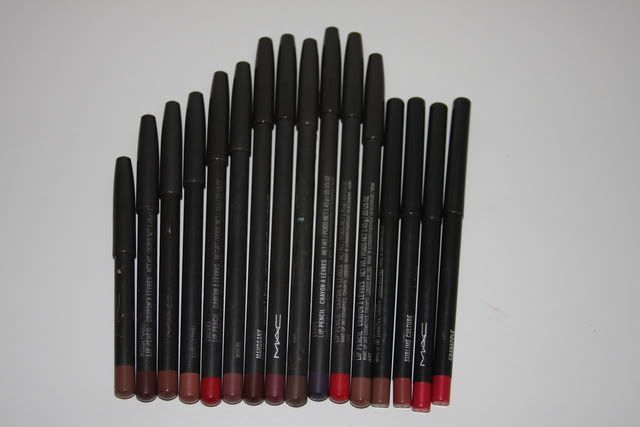 Stripdown, Hodgepodge, Spice, Subculture, Cherry, Whirl, Mahogany, Half-Red, Stone, Grape, Redd, Oak, Creamola, Sublime Culture, Cranapple x2.
Lipglass Limited/Discontinued: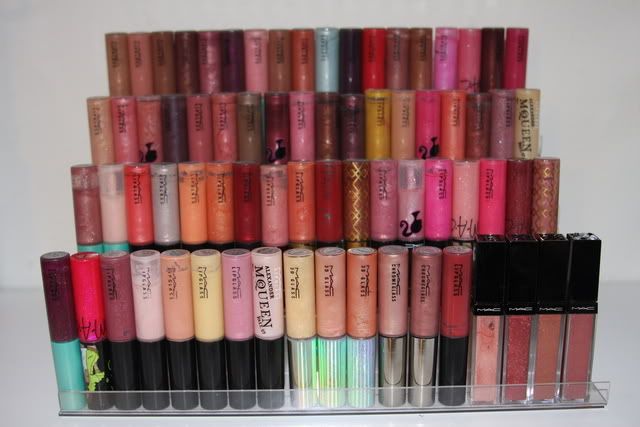 Row 1: 1N, 2N, 3N, 4N, All Woman, Angelwing, Bait, Bare Truth, Bendel Girl, Blue Memory, Bold Heart, Chance Encounter, Corps de Ballet, Crescent, Crystal Rose, Cult Fave, Dark Flower, Deja Rose
Row 2: Elaborate, En Pointe, Fashion Pack, Flight of Fancy, Full on Lust, Glamoursun, Good as Gold, Happening Gal, Heartfelt Pink, Languish, Light My Fire, Lure-X, Majestic, Malibu Barbie, Moonbathe, New Flame, Nico Now, Nothingless.
Row 3: Pink Clash, Phosphorelle, Petit Four, Pas de Deux, Orange Descence, Ola Mango!, Red Romp, Rayothon, Raquel, Pure Vanity Pinkular, Pink Merangue, Sweetness, Sweetie Cake, Sugar Trance, Standing Ovation, Squeeze it, Soft edge.
Row 4: Sex Ray, Totally it, Tres Cher! Trifle, Truth & Light, Vibrational, VGVISE, White Magic, Back-Lit, Energy, Synched Up, Metalphysical, Sun Metal, Avarice
Lipglass Permanent: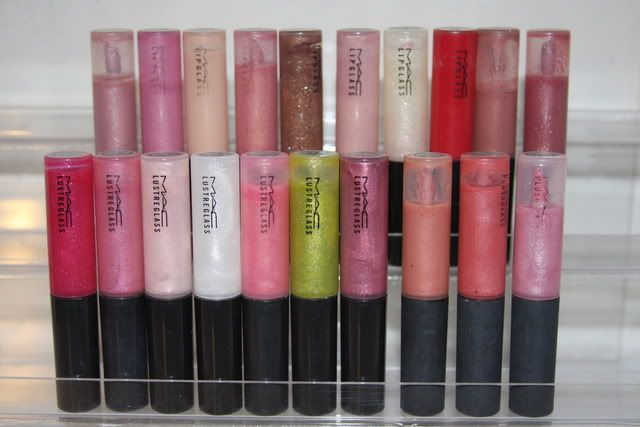 Row 1: Dreamy, Cultured, C-Thru, Nymphette, Oh Baby, Oyster Girl, Snow Girl, Russian Red, VGV, VGVI.
Row 2: Flashmode, Flusterose, Luminary, Lustrewhite, Pinkarat, Spring Bean, Star Nova, Big Baby, Big Kiss, Bountiful.
Lipglass Mini's:
Lip Gelees: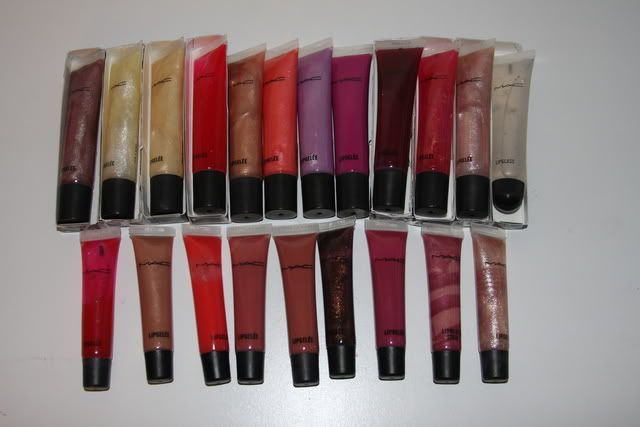 Row 1: Amber Russe, Cool & Aloof, Dame in a Dress, Dewy Jube, Gemshine, Lil Sizzler, Mega, She Boom, Sugar Shock, Valentines, Who's That Lady, Clear.
Row 2: Dewy Jube, Sapilicious, Glospitality, Jelly babe x2, Jellicious, Lu-lu-be, Spinpink, Who's That Lady.
Gloss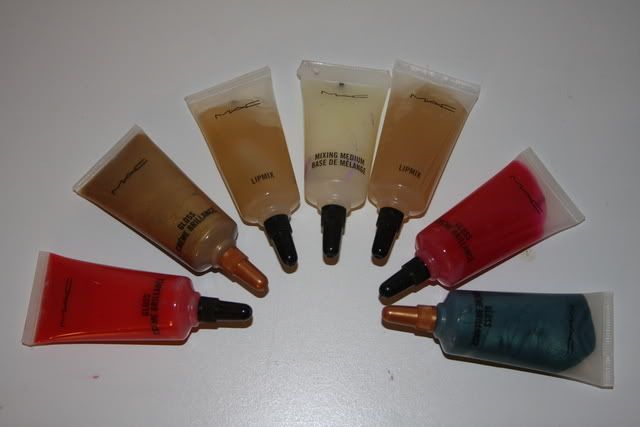 Shock Me Gloss, New Gold Gloss, Lipmix, Eyeliner Mixing Medium, Lipmix, Clear Red Gloss, Teal Gloss.
Laquers/Pro Long Wears:
Babied, Fanplastico, Sheena, Veneer, Alta Moda, Coco Fix, Fully Charged, Perma Pink, Roller Derby.
Lip Conditioners/Tendertones/Petite Gloss/Shadebenders:
Deep Sigh, Hush Hush, Pucker, Purring, Shush!, Softnote, Take a Hint, Tender Baby, Warm Smile, Daisy Daze, Baumy Bronze, Cleo's Coral Kiss, Tempting Tillie, Coquettish Clarice, Summerfete, Miss Bunny, Irridescently Shadebender, Glaze, Millefeuille, Plum Parfait.
Blush: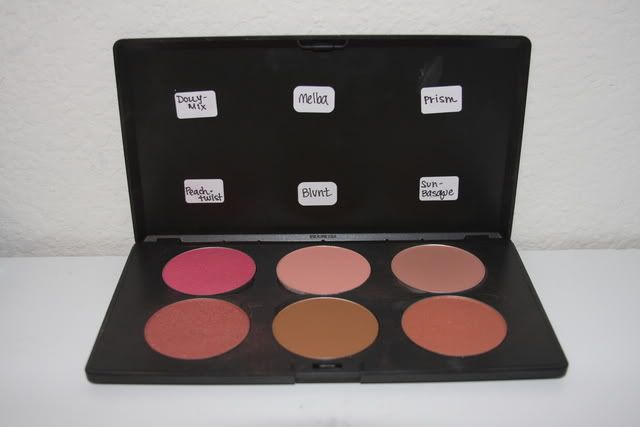 After Dusk, Brit Wit, Desireous, Don't be Shy, Fab, Fashion Frenzy, Hipness, Pinch Me, Otherworldly, Bone Beige/Emphasize, Lightsweep/Shadester, Warmlight/Definitive.
MSF's:
Row 1: Glissade, Global Glow, Gold Deposit, Gold Spill, Light flush.
Row 2: Lightscapade, Metal Rock, Naked You, New Vegas, Northern Lights.
Row 3: Petticoat, Pleasureflush, Porcelain Pink, Shimpagne, Shooting Star.
Row 4: So Ceylon, Stereo Rose, Warmed.
Chromacakes/Paint Sticks/Mixing Mediums: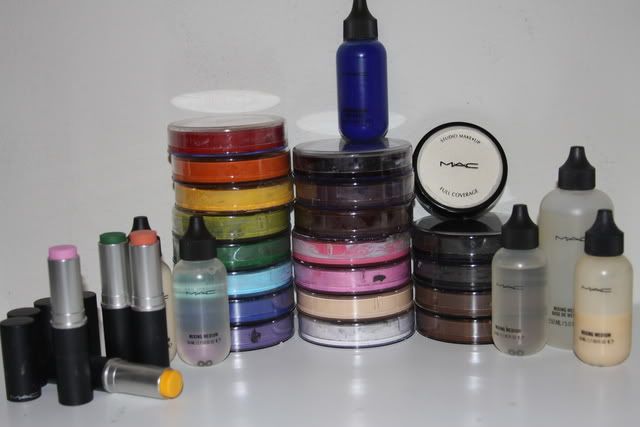 Jewels and Gems: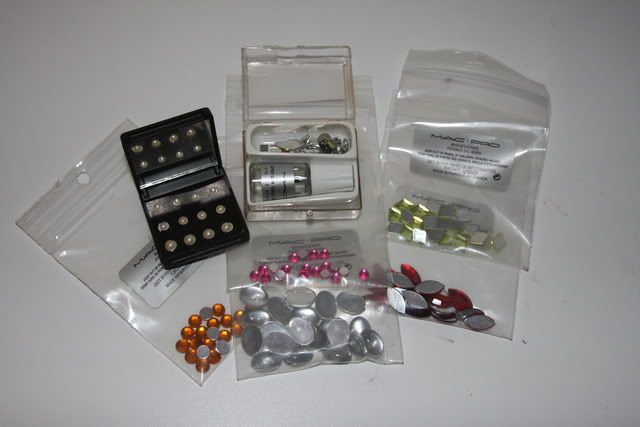 Brushes (Full Size):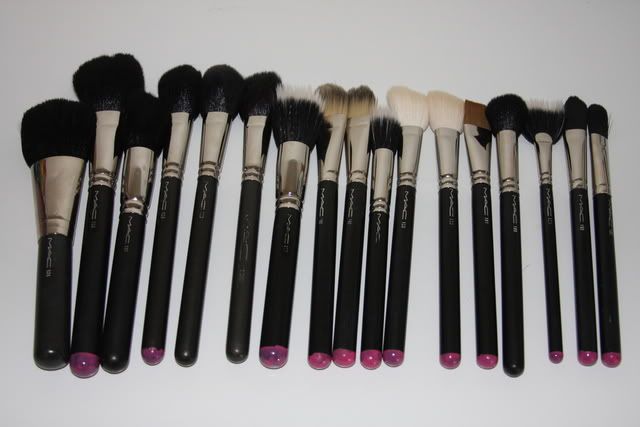 Brushes Special Editions/Limited:
Holiday Palettes
Eye Palettes
Row 1: Suedette: 6 Intense Eyes, Velvet: 6 Smokey Eyes, Lace: 6 Warm Eyes, Pleat: 6 Cool Eyes.
Row 2: Delights: 6 Eye/Trend, 6 Eye/Cool, 6 Eye/Warm.
Row 3: Patternmaker: 6 Cool Eyes, Patternmaker: 6 Warm Eyes, Tailormade: 6 Cool Eyes, 6 Eyes: Dazzle 1, 6 Eyes: Dazzle 2.
Row 4: Royal Assets: 6 Cool Eyes, 6 Mettalic Eyes, 6 Warm Eyes, 6 Smokey Eyes.
Face Palettes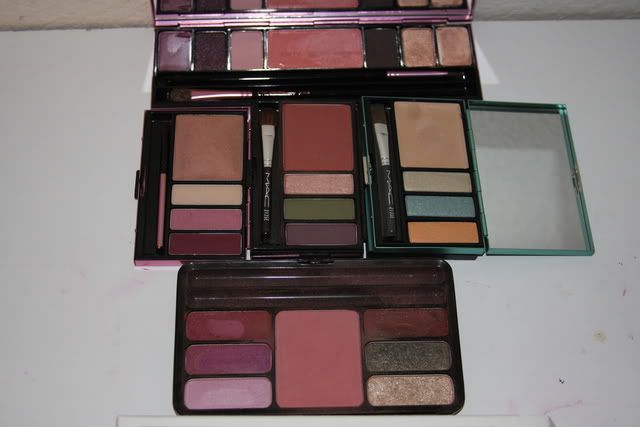 Row 1: 7 Face Sparkle.
Row 2: 4 Face: Dazzle, Authentics, Y & Kei.
Row 3: Indulgence: 7 face.
Lip Palettes
Row 1: Seductions: 6 Lip/Trend, 6 Lip/Cool, 6 Lip Warm.
Row 2: Viva Glamourous: 3 Warm, Viva Glam 6 Lip, Viva Glam 6 Lip, Viva Glamourous: 3 Cool Lips.
Row 3: Patternmaker: 3 Plum, 3 Coral, 3 Tan, 3 Pink, 3 Beige.
Row 4: Tailormade: 6 Warm Lips.
Mac Skincare/Face Stuff/Random: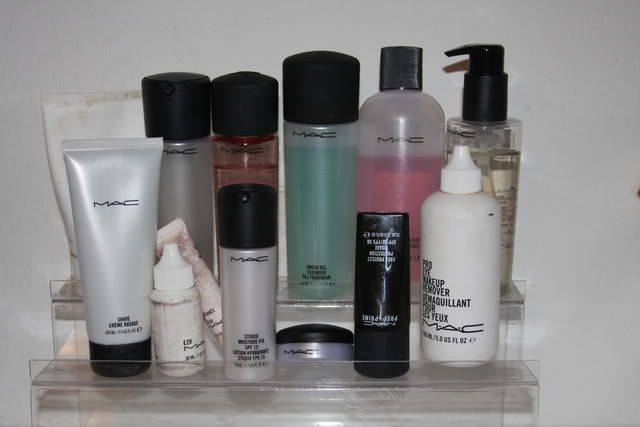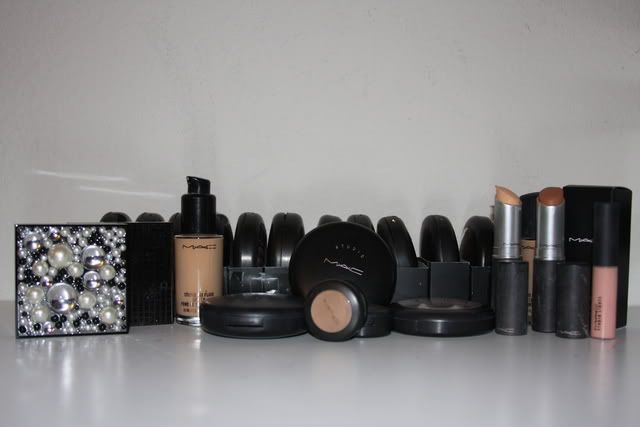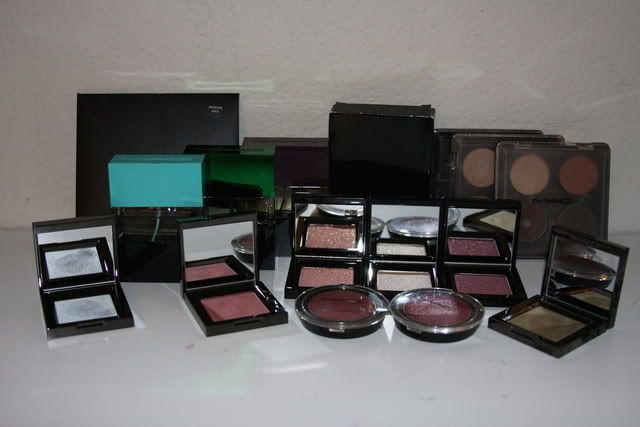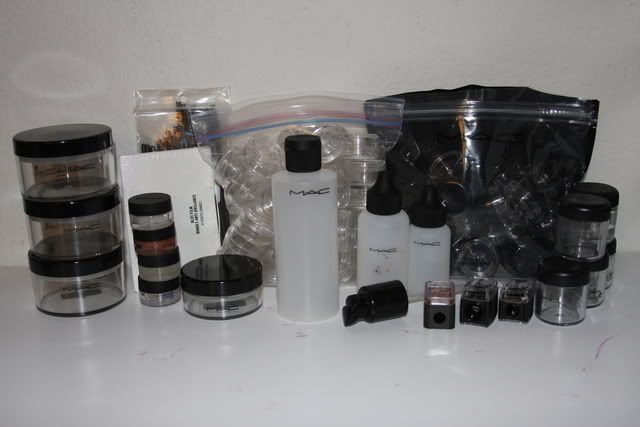 Beauty Powders/Pearlizers
Shimmerene Glitter Cream.
Top-Bottom: Drizzlegold Beauty Powder, Invisible Set Powder, Silver Dusk Iridescent Powder.
Top-Bottom: Pearlizers- Hundred Degree, Ever Opal, Apripeach, Pearlette, Opulent.
Top-Bottom: Both are White Glitter Gel.
Mac Bags & Fafi Stuff: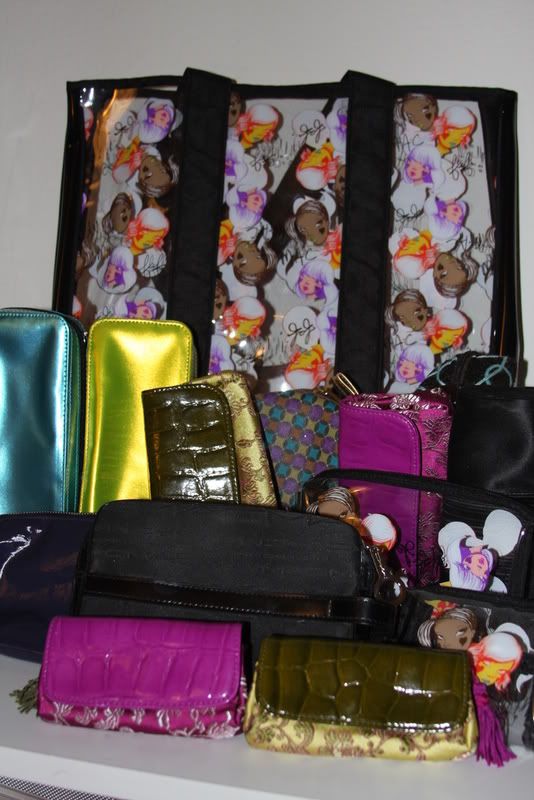 Nail Polish
Row 1: Abstract, Blue Sprinkles, Boom!, Demi Blanc, Duo Pink.
Row 2: Gee Whiz, Girls Will Be Girls, Gold Veneer, Nocturnelle, Rose Topping.
Row 3: Vestral White, Whirlwind, Wildfire, Underlaquer, Overlaquer.
Lashes
I have a bunch more but they are multiples of what are shown.
B2M Drawer
Traincase: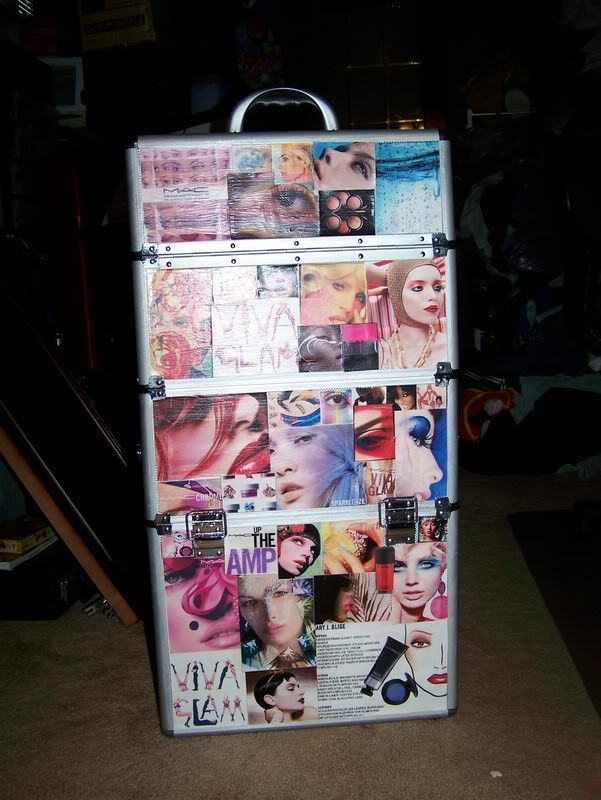 Backup's: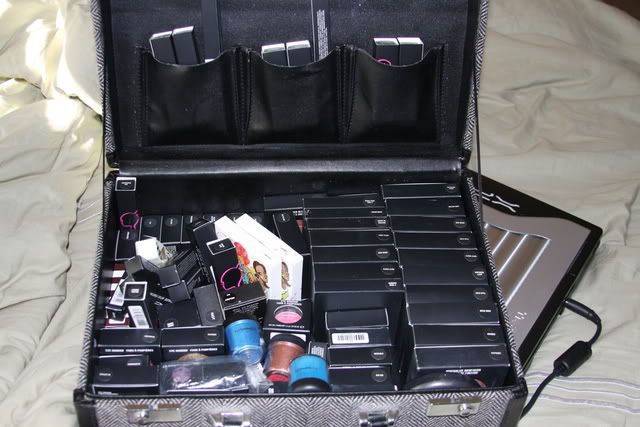 Postcards (coming soon)
These are stored at my old house which is being remodeled, so I will post pics after I move back in over there.
Hope you enjoyed! If you have any questions, I will try my BEST to answer them. =)