My brows, eyes, and lips are the most complimented things on my face lol. I am constantly asked who does them and how I get them so perfect... Well this is how. Something else Ive given up on is making them the same... I have learned that eyebrows are sisters not twins lol I have 2 ways I do my brows because I dye my locs sometimes...
Tools I used...
From left to right
* NC42 STUDIO FINISH CONCEALER... I use the same shade as my foundation... some people use a lighter shade but it tends to leave an outline in photos. (even after good blending)
* LINGERING EYEBROW PENCIL
* CINNAMON BROW FINISHER (like a glue stick for brows used in 2nd tut)
* GIRL BOY BROW SET (this makes the hairs STIFF used in the 1st tut)
* 206 BRUSH
* 212 BRUSH
* 269 BRUSH(PRO)
* BROW SCISSORS (got these from Sally's)
* SLANT & POINT TWEEZERMAN TWEEZERS!!! (the BEST tweezers on Earth)
TUT 1
ALWAYS do brows first!!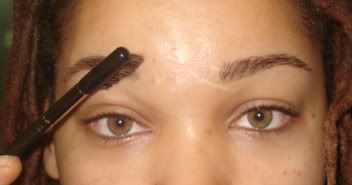 Step 1:
start with clean face and use 206 to brush eyebrows up then use tweezers to clean up and scissors to cut hairs that are too long (you wont need to do this everytime I do it once a week)
Step 2:
Take eyebrow pencil and sketch and fill brows LIGHT STROKES lol I like heavy brows but not groucho marx heavy ( I fill because I have a scar that goes through my eyebrow and hair doesnt grow there)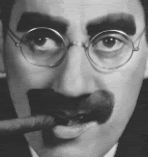 NO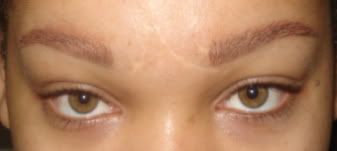 Step 3:
Take brow set and brush it through the hairs in the brows. I use girl boy because I dye my locs and dont want to bleach my brows.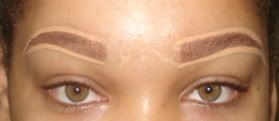 Step 4:
NOW LETS SHAPE THESE PUPPIES, take the Pro 269 (you can use 266 or 263 theyre too small for me) and dip it in the concealer. (I tried to use foundation but its not think enough and it doesnt last as long.) And create an outline on the top and bottom of your brows
When you do this it covers those tiny stray hairs and gives the brow a crisp clean look.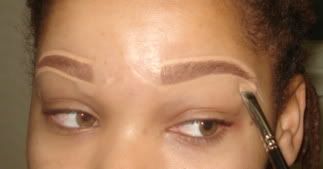 Step 5:
Now its time to blend... for this I use the 212 brush. lightly blend concealer in using downward strokes under brow and upward strokes above. dont go into the brow or it will be "jagged"
Then ALACAZAM your done and have PUUUUURFECT Brows!!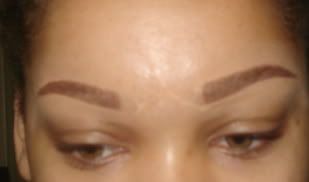 2nd TUT
Basically you follow all the same steps except this time you sub brow finisher for Brow set...
so for step 3 take the brow finisher and run it through the brows to make them lay down... 2 or 3 times then follow the rest of the steps and you will end up with something like this...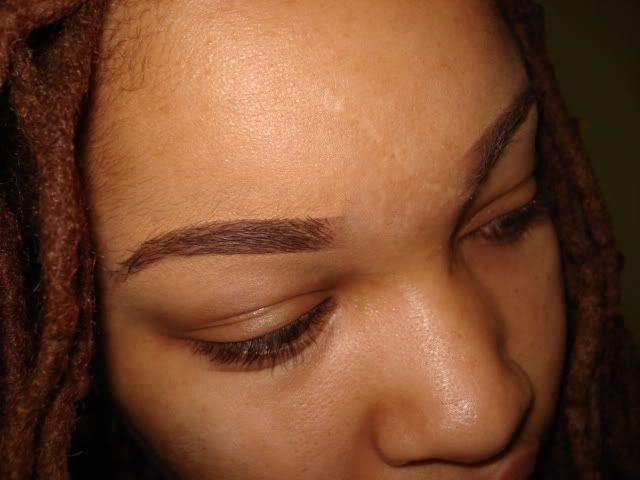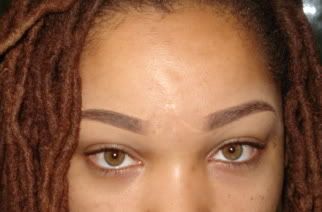 I hope this helps!!! Oh yeah people ALWAYS ask about my scar... I was hit by a car when I was 6. Don't be sad or feel sorry for me becasue I made it and I'm still here!