This kit is years in the making! This is definitely a post worth checking out in my opinion

I hope you all enjoy this!
First, photos of my room and makeup desk - I promised some folks I would include this!
Then, a photo of my freelancing kit (where all my makeup is stored at all times).
All of it laid out, separate bags for each product:
And here we go:
Lip Products Pic 1:
Dazzleglasses in - Date Night, Funtabulous, Ms. Fizz, Like Venus, Rags to Riches, Steppin' Out, Baby Sparks, Smile, Sugarrimmed, Nice Kitty, Racy, In 3D, Red Devil, Ensign, Uberpeach, Pastel Polish, Algorithm, Touchpoint, Morning Glory. Snowscene, Wildly Lush, Nice Buzz, Clear Lipglass, Moonstone, Cellopink, Lip Conditioner.
Lip Products Pic 2:
Popster TLC,Take A Hint Tendertone, Honey Bare Tendertone, Lip Conditioner, Bare Slimshine, Unchanging Pro Longwear.
Lip Products Pic 3:
Dior Ultra Gloss Reflect in 457, Chanel Glossmeir 67, Estee Lauder Tender Lip Balm Tender Peach, Lip Venom.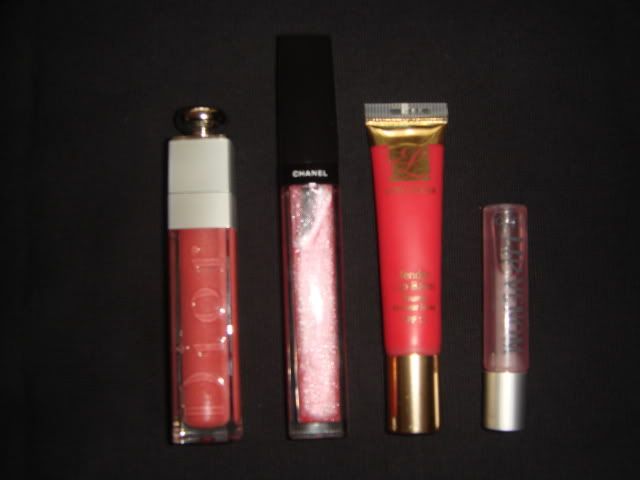 Lipsticks:
Pic 1:[/b] Big Bow, Tanarama, Pirouette, Angel, Bombshell, Pleasureseeker, Myth, Lollipop Lovin.
Pic 2:
Impassioned, Delish, Liza Red, Petal Lure, Fanfare, Pink Packed, Real Doll, Pervette.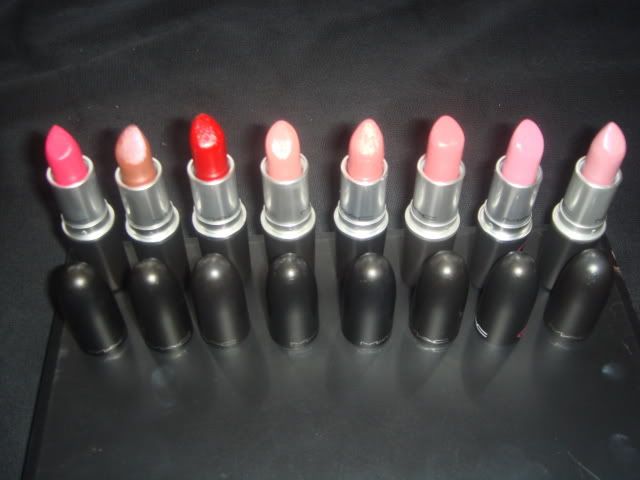 Pic 3:
Viva Glam II, Viva Glam I, St Germain, Chatterbox, So Scarlet, Blow Dry.
Lipliners:
Cranapple, Beurre, Brick, Velvetella, Prep and Prime Lip
Eyeshadows:
MAC Palettes:
Blues:
Deep truth, Climate blue, Submarine, Freshwater, Moonflower, Tilt, Fade, Sky blue, Clarity, Softwash Grey, Atlantic Blue, Cobalt, Blue Calm.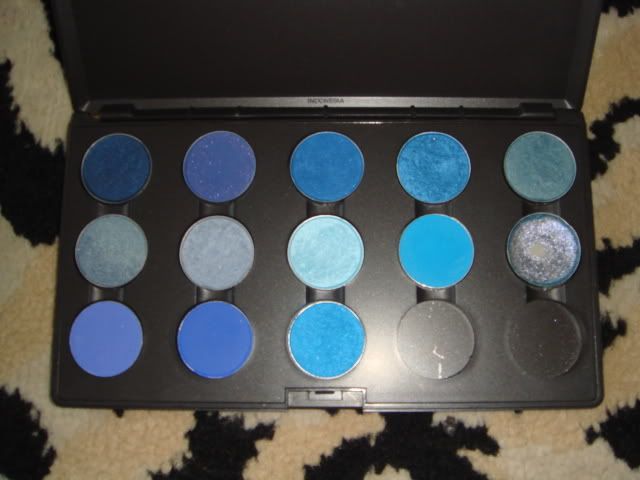 Aquas:
Aqua, Newly minted, Aquadisiac, Gulf stream, Surreal, Zonk blue, Shimmermoss, Jewel blue, Parrot, Parrot, Cool heat, Plumage.
Purples:
Graphology, Top hat, Signed, sealed, Intoxicate, Noctournelle, Satellite dreams, Parfait Amour, Beautiful iris, Digit, Red violet, Lavender sky, Hepcat, Stars and rockets, Vibrant Grape.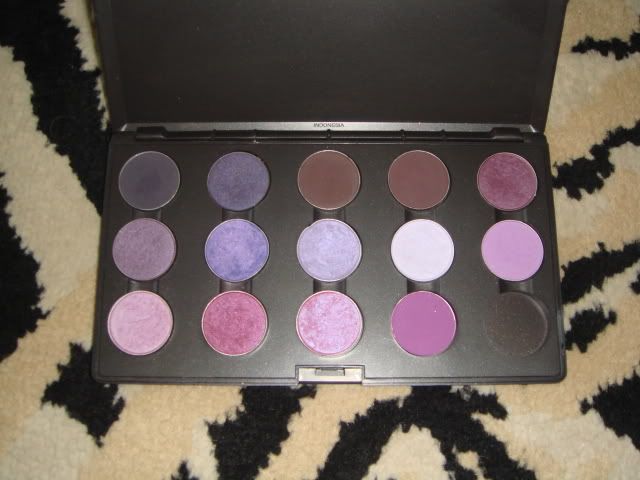 Greens:
Forest green, Flourishing, Club, Sumptuous olive, Humid, Swimming, Bio green, Juxt, Aquavert, Bitter, Eyepoppin, Bottle Green.
Yellows, Pinks, Oranges:
Canary yellow, Chrome yellow, Goldmine, Juiced, Motif, Goldenrod, Orange, Coppering, Passionate, Star Violet, Pink venus, Da bling, Swish, Pink freeze, Seedy pearl.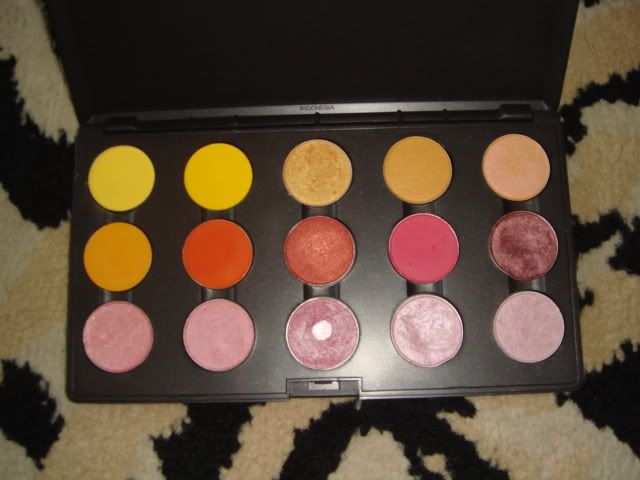 Black and Whites:
Gesso, Vellum, Crystal avalanche x2, White frost, Electra, Swan lake, Howzat, Charred, Carbon
Neutrals 1:
Soba, Wedge, Kid, Haux, Patina, Retrospect, Hey, Naked lunch, All that glitters, Dazzleray, Romp, Bronze, Woodwinked, Tempting, Amber lights.
Neutrals 2:
Omega, Copperplate, Charcoal brown, Espresso, Brown from tempting quad (I cant remember the name), Mystery, Twinks, Satin taupe, Sable
Highlight:
Blanc type. Solar white, Phloof!, Shroom, Nylon, Dazzlelight, Sugarshot, Next to nothing, Rice paper.
HK Lucky Tom Quad
Loose Eyeshadows:
UD Graffiti, Bobbi Brown Gunmetal, Ben Nye LU-20 Starry Night,
Nars Duo in R Rated, Smashbox Brow Tech and Cream Eyeliner Palette.
Ben Nye Eyeshadows:
Ben Nye Palettes:
Cream Concealer Palette, Grand Lumiere Palette, Aqua Color Palette.
MUFE Eyeshadows:
MAC Liners:
Fascinating, Wolf, Rave, Clear Brow Wax, Smolder, Graphblack, FabOrchid/DashLily, Brownborder, Smoothblue, Rapidblack, Pop Iris, Molten Sol, Black (I dont know the name!), Aqualine, Girl Groove
Mascaras in: Fibre Rich, Mascara X.
Other liners and mascaras:
NYX Baby Blue, Stila Onyx, Cargo Boogie Nights set, UD (both small eyeliner sets) Estee Lauder Projectionist Mascara, MUFE Smoky Lash.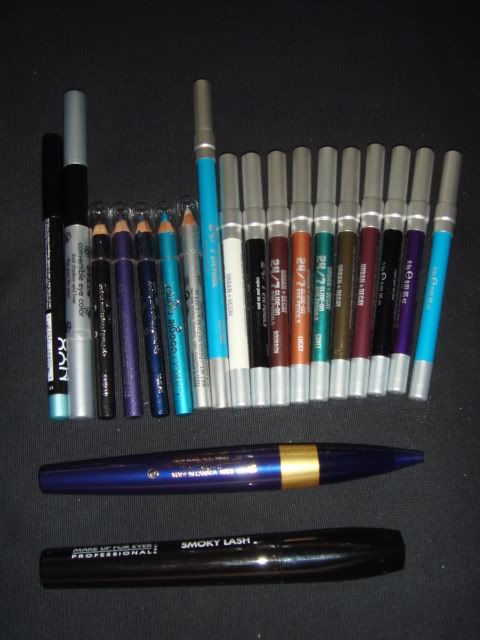 Primers and Base Products from MAC:
MAC Luna CCB, Pearl CCB, Paint in Flammable, Paintpots in Blackground, Otherwordly, Soft Ochre, Bare Study. Fluidlines in Frostlite, Richground, Blacktrack
Other base products:
UDPP, MAC sample containers with UDPP, Ben Nye Black Base
Pigments:
Viz A Violet, 3D Silver, Pure White, Silver Fog, Reflects Gold, Reflects Pearl, Pink Opal, Pink Pearl, Reflects Teal, Mutiny, I have Vanilla too but its hiding somewhere!!
More Glitters and Pigments:
Emani Minerals White Gold, Make Up For Ever Star Powder, MAC Glitters in Purple, Reflects Gold and Reflects Blue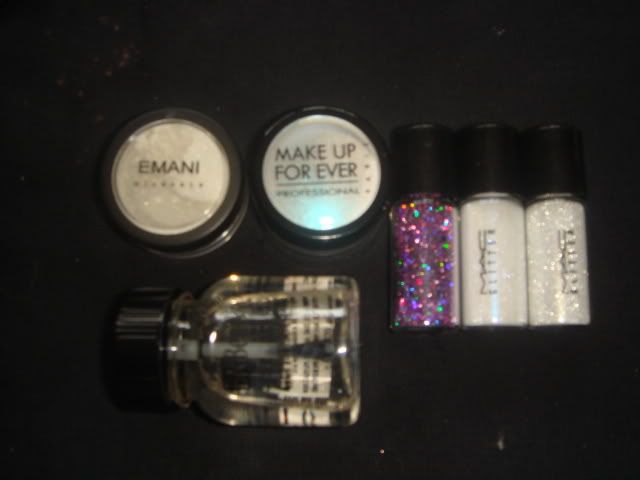 MAC Lashes:
35, 3, Shes Bad, Shes Bad.
NON-Mac Lashes:
Echos Eyelashes, NYX Singles
Mineralized Blushes:
Gentle, Pleasantry
Love Thing, Merrily
MSFs:
New Vegas, Brunette, Redhead,
Norther Lights, Lighscapade, Petticoat
Blonde, Silver Dusk Powder
Mac Blushes Pans:
Frankly Scarlet, Azalea, Trace Gold, Springsheen, Joyous, Tippy
(bottom pan

Fleur Power, Pink Swoon, Well Dressed, Pinch o Peach, Cubic, Blushbaby
Non Mac Blushes:
Bobbi Brown Shimmerbrick Peony & Pink Quartz, Costal Scents Blush Palette, NYX cream blush in Nautral and Hot Pink.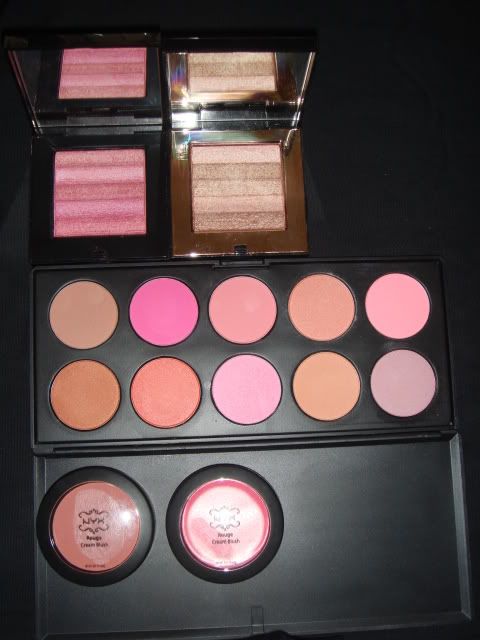 Foundations:
RCMA Shinto Foundation Palette, MAC Face and Body in White and N2
MUFE HD in 180, 150, 144, 118, 117, 110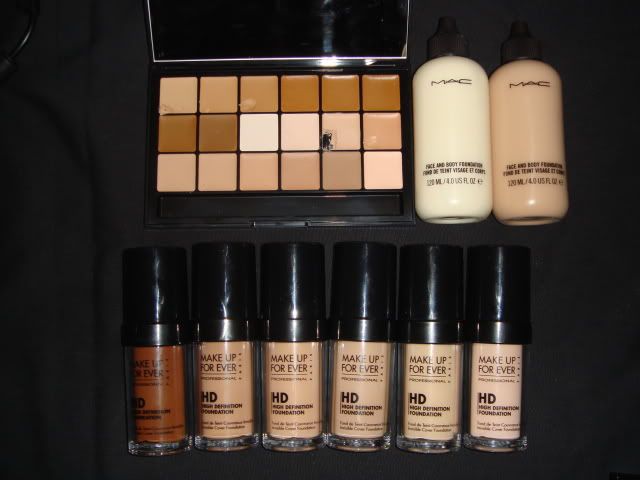 Concealers and Primers by MAC:
MAC Matte, Line Filler, Select Moisturecover NW20, Select Cover Up NC15, Strobe Liquid
Non MAC priming and concealer products:
Cinema Secrets powders in Soft Light, Beige, MUFE Green HD Primer, MUFE White HD Primer, Smashbox Photo Finish, MUFE HD Powder, Clinique Line Smoothing Concealer, Smashbox Photo Op Under Eye Brightener, MUFE Full Cover Concealer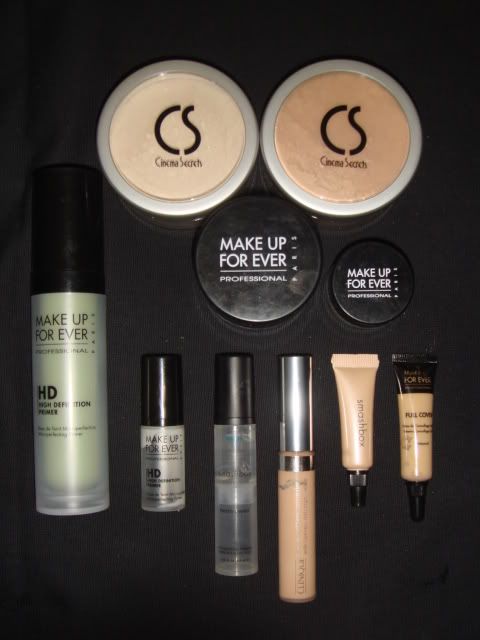 Mixing Mediums
in Eyeliner, Face and Body, Water Based
Fixers and Glues:
Visine, Ben Nye LiquiSet, Duo Adhesive in Clear and Black
Spray Bottles:
Fix +, Fix + Rose, Hand Sanitizer, Water, Alcohol, Brush Cleanser.
MAC brushes in:
150, 136, 165, 109, 187, 188, 227, 190, 222, 217, 217, 242, 252, 316, 263, 208, 219, 231, 194, 239, 239, 224,226,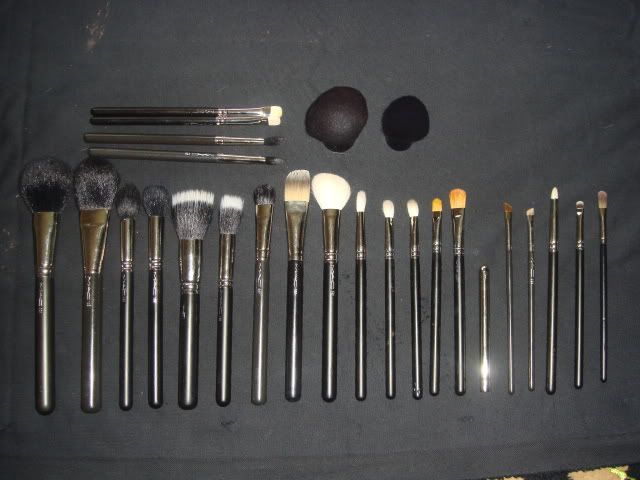 Crown Brushes and others: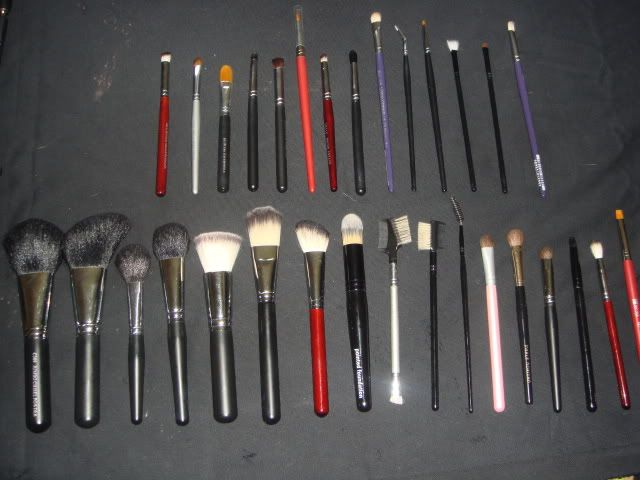 Graftobian Palette and Spatula:
Brush Belt filled with brushes: