I took these impromptu swatch pics for another forum but I just wanted to throw them in here (my skin is dry after bathing the dog in these pictures, so pardon me please!)
The first picture is of the All Over Glow Powder (Dark), Cream Glow (03) and 5 Shadow palette (#13). Colors are more vibrant IRL (for example, the orange is more of a richer, burnt orange).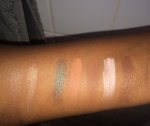 This second Pic is of 3 blush duos (L-R is #11 Burnt Orange, #17 Fresh Tan and #16 Matte Nude). The blushes are SUPER pigmented (although it may depend on the shade chosen), and a light hand is needed. The lighter half of the duo is a sheer highlighter called 'Tou Tou', which compliments each blush shade beautifully and helps to tone down the intensity of the blush as well as blend any harsh edges.