I am almost done watching the 2nd season of Gossip Girl, and I fell in love with Leighton Meester´s (alias Blair Waldorf) makeup, hair and style. I know her hair is usually down and wavy and her lips are never really this bright....but I`ll recreate it more in detail next time.
FACE
MAC Studio Sculpt NC25 (sample...sigh, looks like I´ll have to go buy it. I love the finish)
MAC blush unknown shade to contour
MAC Beauty Powder Pearl Sunshine
EYES
TooFaced Shadow Insurance
Coastal Scents 28Neutral palette
Jane Be Pure mineral gel liner in black
Maybelline Colossal mascara (meh, where´s the promised 9x increased volume?)
Anastasia brow powder duo Ash blonde
LIPS
MAC l/g Russian Red
Hmmm I still can´t figure out what´s wrong with this look. Something is off but I can´t quite put my finger on it. Maybe it´s a combo of everything. Brows are a bit messed up, lipgloss not perfectly applied (do I really need a lipliner with this?) and maybe the foundation is a tad too light. I got a sample of NC30, but it already looks a bit too dark in the pot.
What do you guys think? Help me out please.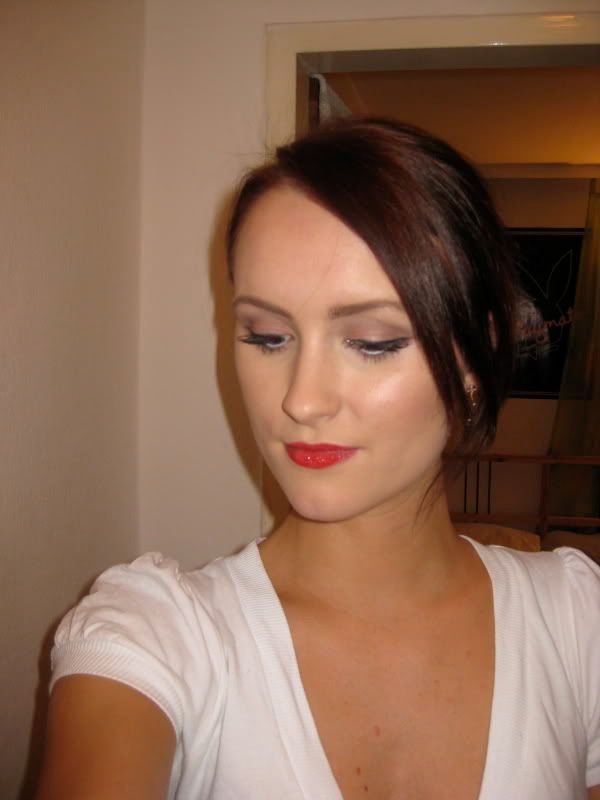 ....the foundation definitely looks too light here, with flash
And I purchased a great little hair tool, the "doughnut bun" from Claire´s. You put it over a ponytail and wrap your hair around it, put an elastic over the bun and tadaaa....a very voluminous and perfect looking bun...ok in this pic it´s not perfect, I was rushing. (without this tool my bun is about 2/3 smaller lol)