Y'all I never go out. NEV-ERRR... I am the lamest person ever. So when I made plans to meet at the bar w/ my friend from work for her b-day yesterday I decided to do it up with my makeup!!

Please forgive all the picture whoring -- I was so psyched to finally get to wear an effin semi-sexy outfit and shit. I wore ALOT of makeup so the list is LONG peeps.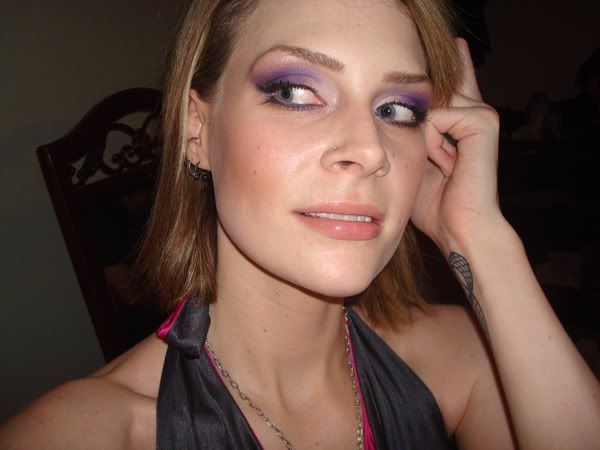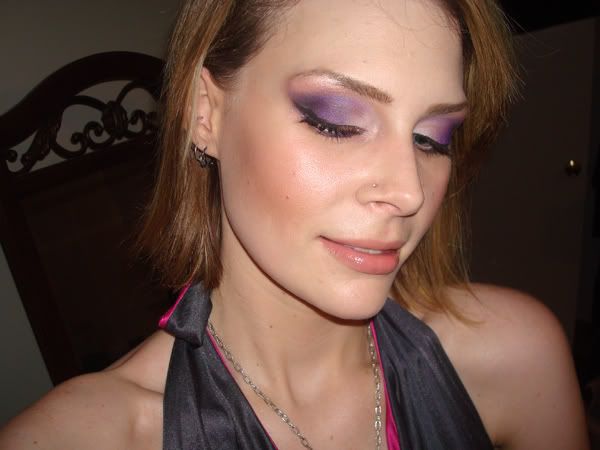 Can you TELL I'm feelin purple lately?? LOL

Face:

Prep & Prime Line Filler
Laura Mercier Oil Free Foundation Primer
MUFE HD Foundation in 117
Studio Finish Concealer in NC 20
Silicon Spheres
Emote Blush to contour
Melba Blush
Redhead MSF
Soft and Gentle MSF

Eyes:

Girl Friendly PP
Vanilla e/s
MUFE #92 e/s
Indian Ink e/s
Black Tied e/s
Carbon e/s
UD Fishnet e/s
Sushi Flower e/s
Blanc Type e/s
Grand Entrance e/s
Gesso e/s on the waterline
Black Track f/l on upper lash line lower lash line corner
Rave Pearlglide e/l on lower lashline
Zoomlash Black mascara
Coquette e/s on brows



Lips:



Blankety l/s

Please let me know what you guys think about it, and if there's anywhere you see I could improve. Love y'all!