Administrator
Staff member
Hyaluronic acid naturally occurs in the skin and its function is to keep skin moist, supple, and plump. With time and age, skin is exposed to sun damage, environmental toxins and other pollutants, so that hyaluronic acid depletes. A GOOD hyaluronic acid serum helps to restore the skin's natural moisture. That's where Caire comes in...
Caire's PhD designed formulations take a revolutionary "hormone defying" approach to the aging concerns of sags, bags and skin volume with exclusive bio-nutritive ingredients including a triple blend of Hyaluronic Acid that travels deep beneath the skin's surface to help women build back firmness and glow in their complexion.
Caire is founded by two former beauty execs and WOC who met with scientists to truly understand the how and why of skin aging to empower modern women with science-backed, clean formulated, hormone responsive skincare solutions.
Caire offers 2 products:
The Serum
(THEOREM SERUM BOOST)- A "Glow & Grow" HA Complex, infusing dermal layers with Caire's Ultra Low Weight HA molecules. These molecules are at 3 to 10 kDAs in weight, making them the tiniest on the market. Additionally, the unique HA Complex includes a Growth Factor Peptide which naturally encourages a woman's body to 'turn on' the latent HA molecules in her skin. Theorem Serum Boost can improve skin firmness up to 200% in 28 days, $56.
[The Mask] (
https://www.cairebeauty.com/collections/triple-molecule-masks)(TRIPLE
LIFT MOLECULE MASK) - A skin boosting, glow-making, wrinkle reducing formula that infuses 3 custom-created types of Hyaluronic Acids and Fermented Polysaccharides into a gel-based tightening infusion. The sophisticated mask continues to deliver customized nutrition for up to one hour, even after being washed off, $52.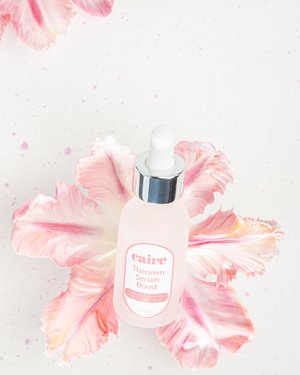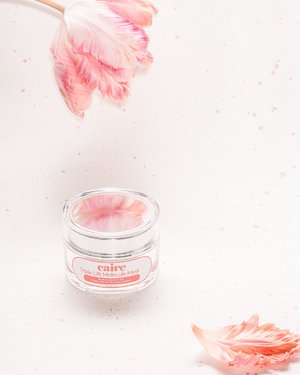 Cheat sheet on Caire:
▪ Skin boosting, glow-making, wrinkle reducing formulas, suitable for all skin types and tones
▪ Proprietary hydration boosting formula using the most advanced triple action Hyaluronic Acid turbo charged through Caire's unique delivery mechanism
▪ Worlds' tiniest Hyaluronic Acid molecules absorb more deeply into skin to instantly nourish & glow
▪ Serum is clinically proven that with 2X daily usage, expect stronger, smoother skin in just 4 weeks. Skin firmness is proven to improve up to 200%.
▪ Helps to reduce the appearance of eye, mouth, forehead lines, wrinkles, crepiness, eye, nose-mouth sags
▪ Vegan, gluten-free and cruelty-free
▪ PhD designed for hormone affected skin