Today is supposed to be the last decent weather day here in the DMV (DC, Maryland, Virginia) area. By Saturday, the temps will be down 20 degrees from today. Thinking about that made me long for California. That was the inspiration for this look...
Face
Lubriderm Extra Moisture Lotion
Black Opal Medium Deluxe Finishing Powder
HIP Enamoured blush
Eyes
Black Opal Honey concealer
MAC Sea Me Shadestick
NYX Hot Pink E/S
NYX Ocean E/S
NYX Atlantic E/S
MAC espresso e/s
MAC Gold Mode pigment
MAC Gold Dusk pigment
Ulta Shapphire e/s
NYX Dollhouse Mascara
Lips
Milani Buzz Worthy Lip Gloss 09 Buzz Worthy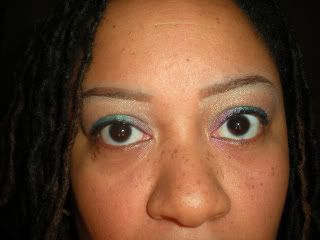 Let me know what you think ladies!