i purchased some new earrings yesterday and i decided to use it as an inspiration for my look. i used colours that i've neglected lol. my face is pretty glittery because i forgot to dust off my 182 brush (i used it as a dusting brush for Lush Candy Fluff Powder which is glittery) so woops lol.
my inspiratation: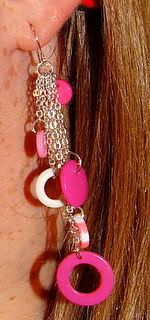 I used (all MAC unless stated):
Eyes:
Canton Candy paint for base
Budding Beauty e/s on lid
Melton Mauve e/s on top of Budding Beauty
Pink Venus e/s to highlight
tiny bit of Swish e/s for crease
blacktrack fluidline for top lash line
Bordeauxline powerpoint liner for bottom lashline
Rimmel Volume Flash mascara.
Face:
Natural MSF in Medium
Lightscapade MSF to highlight
Porcelain Pink MSF on cheeks
Lips:
Wonderstruck lustreglass