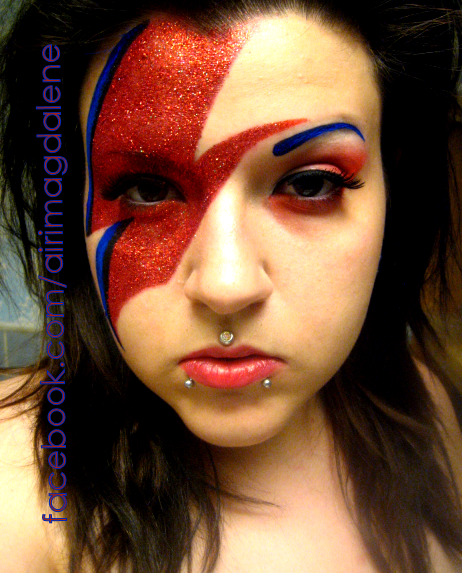 ​
I feel like such a Rebel Rebel when I wear this look. I haven't seen makeup like this since I went to Suffragette City!
*Rimshot*

FACE
Covergirl True Blend in Ivory
LIPS
CoverGirl Lip Perfection in Flame
EVERYTHING ELSE
The blue used is MIngles by Glamour Doll Eyes.
The more normal eye is the NYX Shangri-la trio's orange shade, GDE's Strawberry Cupcake, and Wet N Wild's Brulee
The black liquid liner is also Wet N Wild, and the lashes are by Ardell.
I used white kohl pencil by Rimmel on my waterlines.
To create the lightning bolt, I traced out and filled the shape with NYX's Jumbo Pencil in Cherry. I applied the glitter by mixing it with alcohol and loading it onto a small brush, which allows you to pick up a lot of glitter and place it accurately, and the alcohol evaporates very quickly. It's a neat tip.
The glitter is a blend of red, opalescent coral, and orange to give a bolder effect than just one shade alone.​