With MAC's spring color forecast came the new eye shadow quad styles. The first thing that popped up in my head was "how am I going to depot this?!". This is mostly a written tutorial, but I hope it is helpful.
I'm a little obsessive with depotting my eye shadows, if they aren't in the 15-palette form I don't reach for them at all. They become forgotten into obscurity somewhere in the back of my vanity. I used to be a pro at depotting eye shadow quads, but since MAC's new quad style, I have been wary of attempting to do so.
It's true, MAC's new quad style isn't exactly depotting friendly. It's a little time consuming and your quad most likely won't really be that useable or brand spankin' new looking after, so it's not for everyone.
You have to have a lot of motivation(or in my case obsessive compulsion) to want to depot these shadows, but fear not! It can be done.
I would have taken more pictures of the step by step, however I was experimenting with ways to depot this quad and didn't really know what I was doing until it was done, so it's more of the aftermath of my insanity. I hope this helps my fellow depot(ters?).
Things you will need:
Wax paper or a towel
A paring knife
A lighter (starter? Not sure what this is called exactly)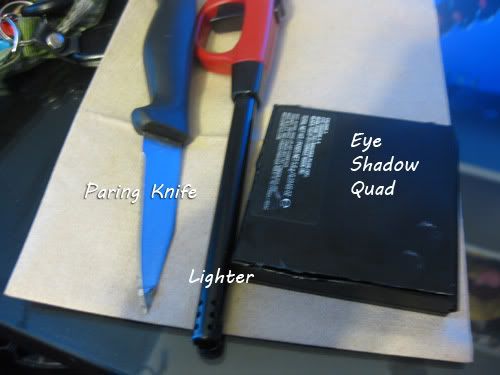 [
( I used to be able to use a flat iron to depot, I find that this is not the case with this quad because the eye shadows are raised with more plastic)
I used the color 3 quad from the Spring Color Forecast Collection
Turn the quad over and gently stick the paring knife between the indentations on the sides. Wiggle it around and once you get under the plastic wiggle the knife up. You will hear a cracking/snapping sound, this is normal. Do this to all sides of the quad. (I actually only did this to three of the sides and then used my hands to pull it all off once I could get a good handle on it)
You will remove the plastic backing and it will reveal the plastic insert that holds the eye shadows.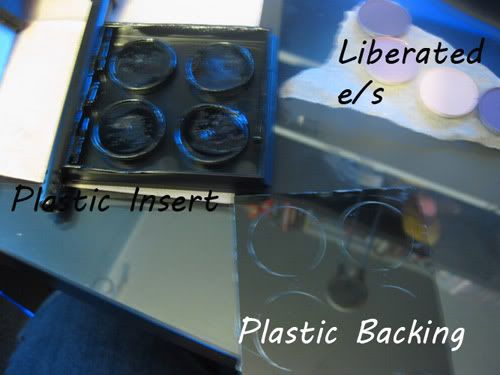 Flip the quad back over and lift open the lid. You can hold the quad by the clear part of the lid. I recommend this so when you have to get the lighter involve you don't burn yourself on the plastic.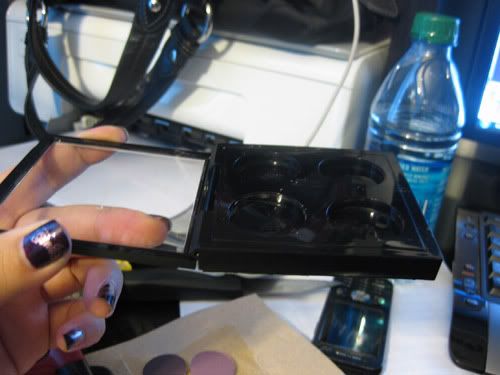 Then take your lighter and place it under the plastic that holds one of the eye shadows. Do this one at a time. Make sure the plastic and your flame do not touch as it can catch on fire. I held the flame there for about 10 seconds, until I could see slight bubbling.
The rest is like depotting a single e/s. The heat will release the glue holding the eye shadow to the plastic insert. Flip the quad upside down again, and close to a flat surface. I used my desk and a piece of wax paper over a napkin in case the eye shadow fell. Take your paring knife and push through the plastic insert through the middle of the eye shadow, it should come out without much resistance. If it is hard to push it out, put the plastic insert over the flame for more time and try again.
And that's it. Do this for all 4 eye shadows and you are done! From here you can add a magnet/label to the back of your e/s if you so choose and stick it in your 15-palette!