Ok this is my first ever FOTD and I feel quite ashamed as my make up isn't even close to the standard of the rest of you. Neither is my picture taking...Sorry about the horrible close up's, all the pictures were taken with my phone as the camera was nowhere to be found.

I'm posting though as mimibrowneyes, who posted this look beforehand, asked to see and, as I said to her, mine is nowhere near as pretty or classy looking as hers (http://specktra.net/f166/subtle-smok...thank-u-95164/) but this is what I wore for my dad's birthday when I went to visit him last sunday. It snowed that day too and I promptly got a snowball in the face first from my boyfriend (who I chased very angrily!) and then my little brother so all my hard work was for nothing in the end...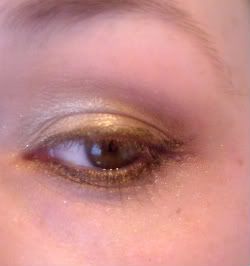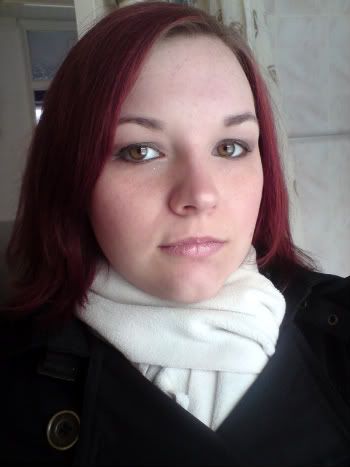 ~* Face *~
L'Oreal Infallible Concealer (as base on eyelids too)
Barbie Loves MAC Pearl Sunshine (to highlight)
MAC Northern Lights MSF (as blush)
MAC Natural MSF in Light (as powder)
MAC Dark Edge e/s (for brows)

~* Eyes *~
From UD Ammo Palette:
Polyester Bride (inner eye)
Maui Wowie (on lid)
Smog (in crease)
UD Smog Liquid Liner
L'oreal Pencil Perfect Eyeliner in Espresso
Rimmel Lash Maxxx Mascara

~* Lips *~

1N Lipstick (From N Collection)
Cult Fave Lipglass (From Fafi Collection)



AND I got my Heatherette Trio on friday

and couldn't resist a quick play. It's not great, it was really quick as it was about 12am and I was knackered! The shading looks so crap in these pics! I swear it looked a bit better in person...


~* Face *~
L'Oreal Infallible Concealer (as base on eyelids too)
Barbie Loves MAC Pearl Sunshine (to highlight)
MAC Northern Lights MSF (as blush)
MAC FAFI Fashion Frenzy (apples)
MAC Natural MSF in Light (as powder)
MAC Dark Edge e/s (for brows)

~* Eyes *~
MAC FAFI Rollickin Paint Pot (On lid)
MAC Heatherette Trio 1
MAC Sharkskin Shadestick (lower liner)
MAC Blitz & Glitz Fluidline (upper liner)


~* Lips *~

MAC Heatherette Lollipop Lovin Lipstick


Lol Be kind, CCs are welcome of course. I doubt I'm gonna post FOTDs a lot as I suck right now