I'm going to Vegas this weekend for the first time in years, and I want to glam it up bigtime.
These are the clothes I'm bringing that are going to need some fabulous makeup to go along:
Spandex sleeveless, high necked, knee-length pencil dress in hot pink, white, grey and black tiger stripes:
I'm thinking Candy Yum Yum is a requirement here, but maybe Quite Cute would make a more interesting contrast (plus be a little more subdued). Sakura MB for sure and on the eyes, I was thinking Rare Find or maybe Jade's Fortune and either the silver or the light green from Surf the Ocean to highlight. The dark blue from Surf the Ocean is another possibility.
Black strapless 80's retro nu-wave sheath with mesh insets at the waist:
Could go a few ways here.....Musky Amethyst or One of a Kind for lips with matching Cremesheen glass, Goldstone for cheeks/face and some smokey eyes with Jade's Fortune or Golden Gaze and Surf the Ocean gold pigment or go bright and retro with Candy Yum Yum, Crystal Pink MSF, and silver/light green from Surf the Ocean sheerly on the eyes with some black, dramatic liquid liner wings.
Afternoon pool parties with this awesome bikini: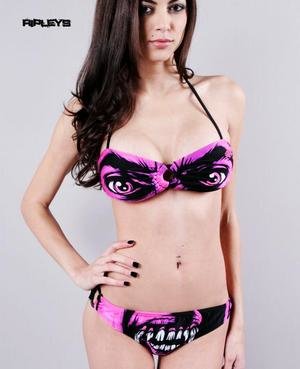 Plenty of Goldstone MSF, Blue Noon eye pencil, and either My Paradise for cheeks + just balm for the lips, My Paradise + Hibiscus or maybe Gem of Roses and or one of the Semi-Precious Cremesheen Glasses.
Give me your opinions ladies - this weekend needs to rock very, very hard!