I couldn't think of a better title, sorry!
Anyways, the high school I graduated from had their grad dinner and dance on June 24th...I managed to get three appointments for the day of, so I was excited. They all looked beautiful, and I forgot how satisfying it is to see clients be super happy about the finished results!
[ Melody ]​
She wanted something that wasn't over the top dramatic, and would go with her dress. It was leopard print, so manly golds, browns, bronzes, etc.
She had already done her foundation at home.
EYES
UDPP
MAC Patina
MAC Bronze
MAC Knight
MAC Carbon
MAC Shroom
MAC Fluidline in Blacktrack
Ardelle Lashes
CHEEKS
Lancome bronzer in Solaire
MAC Dollymix
LIPS
NYC Peach Ice and MAC Hug Me mixed together
I totally forgot to do her eyebrows, but she just did them at home also.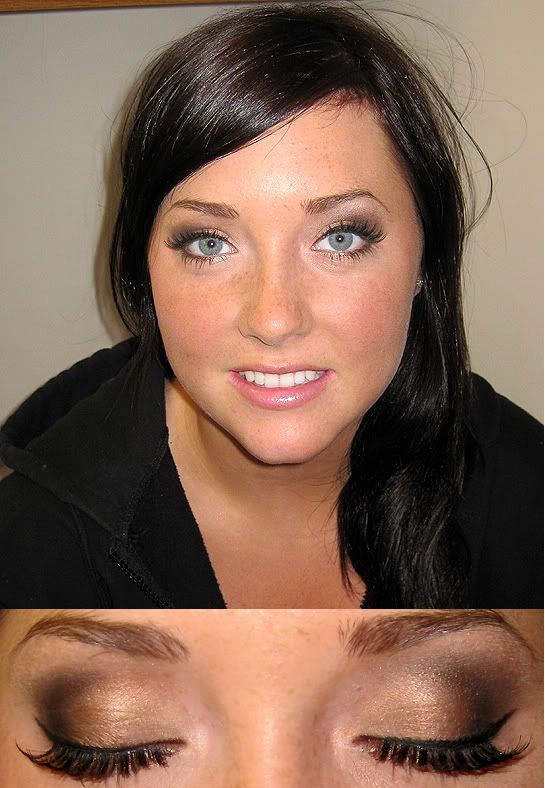 [ Morgan ]​
She normally only wears mascara, so she wanted something neutral. I ended up trimming her brows and styling her hair for her, too
She did her own foundation also.
EYES
UDPP
MAC Shroom
MAC Espresso
MAC Fluidline in Blacktrack
Morgan's mascara (forget what it was, but DAYUMMM she has LONG lashes)
CHEEKS
Lancome bronzer in Solaire
Coastal Scents blush (from 10 palette)
LIPS
CoverGirl Lipgloss
I swear to you that the eyeshadow was more blended IRL! Her eyes were shut kinda tight so it looks off but it looked gorg on her

Here is a (slightly) better eye shot: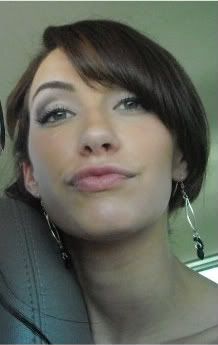 [ Krystle ]​
She was used to wearing something dramatic and dark on her eyes, so naturally she asked for drama.
FACE
Lancome Tiente Idol Foundation in Bisque 0
Lancome Bronzer in Bronze Solaire
MAC Fluer Power blush
EYES
UDPP
MAC Black Tied
MAC Patina
MAC Crystal Avalanche
MAC Fluidline in Blacktrack
MAC Espresso for brows
Ardelle Lashes #101
Maybelline Colossal Mascara
LIPS
MAC Blankety l/s
MAC Underage l/g
The lighting made everything look weird

I didn't even touch her neck with makeup, so I don't know why the coloring looks off! maybe i should stop nit picking now?
I have one more grad coming up on the 29th, and again I'm doing three girls.
Expect more pictures soon!