Tutorial! I THOUGHT i had enuf time..pfft'
I was getting ready for work and figured i would have enuf time to do a tutorial bt half way thru i realized i had only 20 mins to finish up n do my hair! aaacckk!! So i rushed.. sorry =[
Ok so first things first... apply your foundation, blah blah
here u can see me trying to coneal my panda eyes =]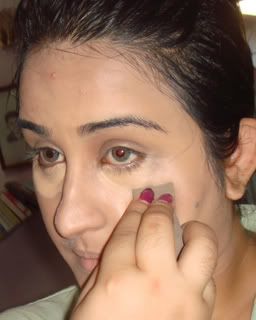 blend..
prep ur lids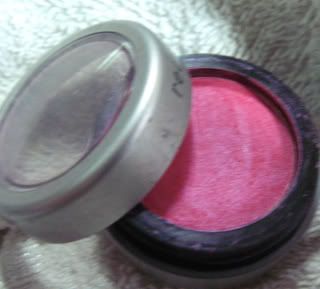 im using this lovely hotpink with shimmers frm RedEarth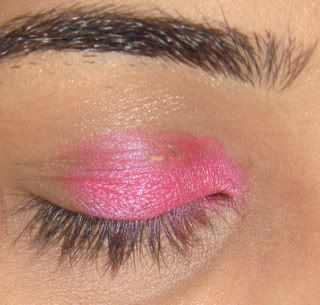 3/4 of the lid.. (yea its messy bt we all do blending last)
oh btw i used this flat brush for it, and im using it for the purple now
purple frm my milani quad
this shade...
just dab on colour, let it be messy baby! =]
then i use my one n only mac brush #275 =D
pick up soem Smut from the Mac Intense eye palette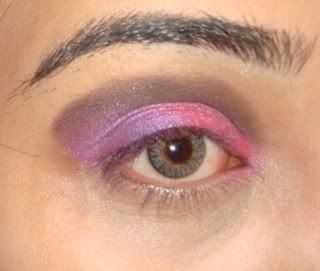 apply it in the crease like so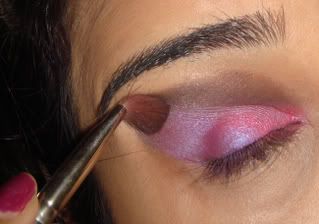 bleeennnddd
use a larger flat brush and pick up colour for your highlight
messyyyyyyyyyyyyy! blend.. blend blend =]
then take an angled or any small flat brush
and mixing liquid or water is fine really
DAMPEN ur brush (nt soak it!) then i pick the purple again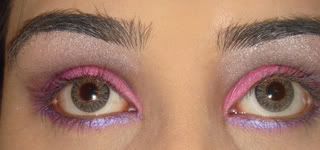 and line my lower lashline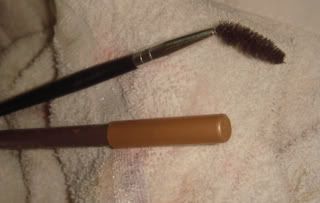 fill in my brows
then i use liquid liner AND pencil. i always line them in liquid liner and GO OVER in pencil later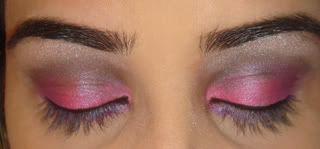 curl those lashes..line your waterline and tonne of mascara!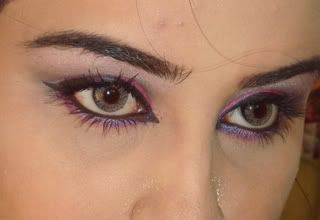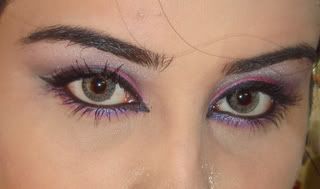 blush! Mac pachykeen on my cheeks and the bodyshop blush as a highlight or to soften any harsh edges
this, my dear girls, is a cheap Bath&Body lipcrayon which is my new best friend =D
simply line your lips (since its a thick crayon, u dont get a mini perimeter arnd ur lips. its thick enough to cover most of your lips
super glossy/shimmery CLEAr gloss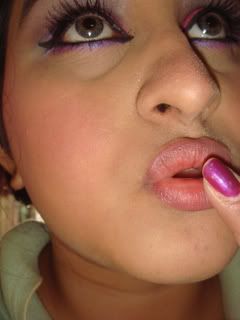 dab dab dab onto the lips
n ur done =]
then u rush to go use the flat iron and do ur hair, change n camwhore for a few minutes before rushn out for work! =D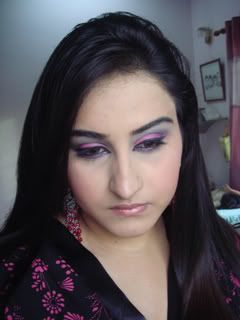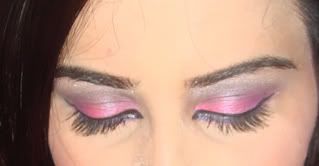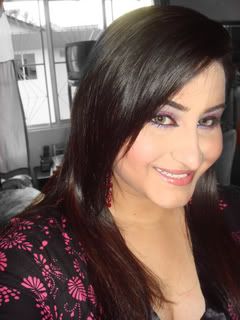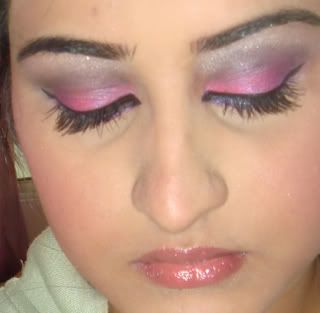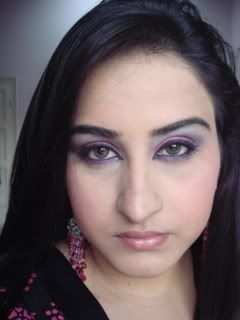 ok sorryyy for flooding =x