Here is my Christmas Eve look...It has been soo long since I have actually really done my makeup... I rarely do these days ..with my nearly 3 month old ...just never have time ..im always in pajamas and in sans face heh.
My best friend Becca gave me the Coastal Scents 88 Pallette !!! as part of my presie..I was so happy ..she gave it to me day before so I useded it and I love love it ..
soo here is my attempt at a more festive look..I even tried to do this bump home girl hair thing i saw on you tube lol ..but It didn't come out to "homegirlish lol" but it was inspired by littleloca if anyone knows who that is.
ok here goes
and Merry Christmas
Face:
Neutrogena Healthy Skin Enhancer (light to neutral 30)
MAC MSF Medium
Cheeks:
MAC Pink Swoon
Eyes:
BB black ink liner
Lancome Hypnose
Bare study p/p on lid
Crimonsaire ss in crease
Coastal Scents
Row 1 Shadow 1
ROw 7 shadow 5
Row 9 Shadow 7
Lips:
MAC Subculture
MAC ANGEL
Philosophy Rassberry Sorbet Gloss
HI IM SO EXCITED IM WEARING MAKEUP !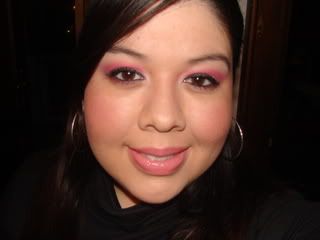 Peppermints and candy canes oh la la la
I think I could of blended a bit more
My eyeliner is all wonky ..ahh well
Look I had Candy Cane nails like hte you tubers ..julie someone ? i forgot her user name
this one my friend took with her super duper nikkon ... but was after we ate so my lippie is almost gone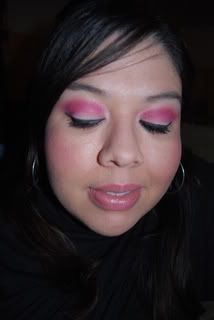 ....................... and the most fairest of them all .......................
SOFIA ...almost 3 months..her first Christmas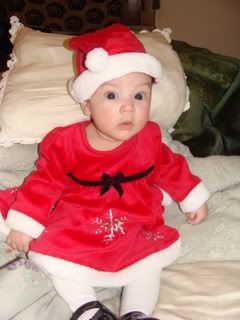 Happy Happy Chritmas to all