By Shimmer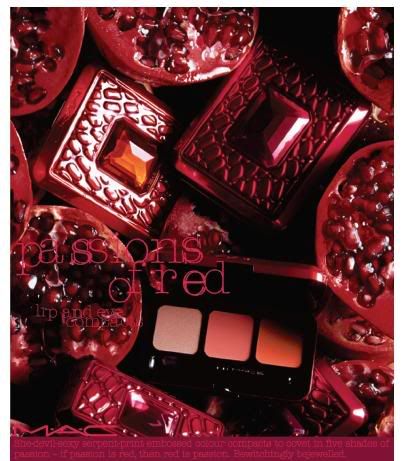 *dies*
I'm just about to stroke out over here looking at this stuff because it's just soooo pretty. I'm really excited to see what kind of quality the packaging is going to have.
I'm disappointed in the Carbon/Satin Taupe combination in the smoky eyes palette, but I guess that's the formula and it works so why mess with it? I've just got…several…editions of those colors. Argh.
The Intriguing Scarlet palette looks like something I may be picking up, if the colors are as pretty as they are in the palette. The packaging is a major bonus in favor of my purchase, I'll admit it.
I can't be the only one who's just about ready to squee over this collection, am I?
Kiss and Makeup has shared images and information about the Passions of Red release, and I'm being suckered in HARD by that red packaging.
For more information and images visit
Specktra Beauty News
Specktra Beauty News » Blog Archive » MAC Cosmetics - Passions of Red