Hi again girls! I had such fun dressing up for Halloween at work this year! My original plan was to be a Victorian lady, but then I was prefering a Southern belle, and it ended up being a mix of those with maybe some Little Bo Peep thrown in. I got the costume from a historical costume rental shop for $50 including accessories. One funny thing is that the bodice had no space for boobs, so I was stuck being flat chested. The makeup wasn't a big deal except the lashes. I figure they didn't have a huge variety of makeup back in those days and none of my identity possibilities is known for a makeup look anyway. I did paint my nails red to match my lips though.
A lady came in the store to take pictures for the mall's costume contest and asked if she could take mine. I said yes, at which point her eyes widened and she exclaimed "Oh, you're a man!" hahahaha
CoverGirl TruBlend in Classic Ivory
Maybelline Ever Fresh Pressed Powder in Translucent Fair
CoverGirl Brow and Eye Makers in Soft Brown
Lancome ColorFocus 4Dreaming in white, tan and brown
CoverGirl Eye Enhancers in Shimmering Onyx
MAC Blooz Eye Kohl
Estee Lauder Projectionist mascara
Makeup Forever fake lashes #112
NARS Orgasm blush
unknown red lipstick (stupid unmarked green tube...)
MAC Whirl lip pencil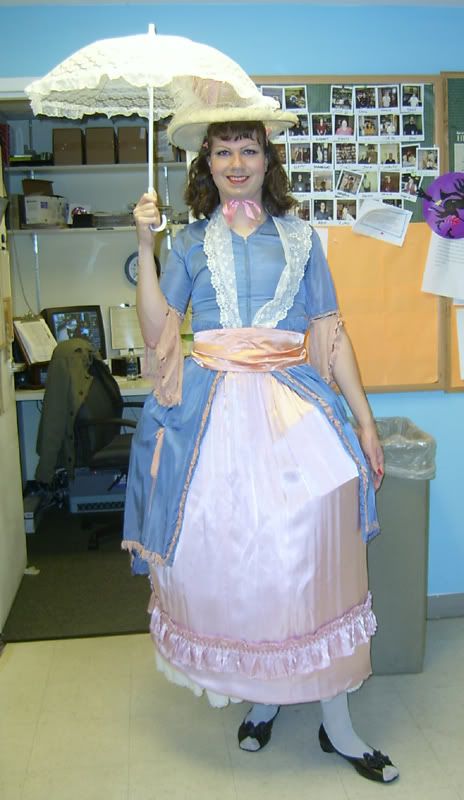 One of the bustles was out of place here, as was one side of the bodice lace. But you get the idea.