Hi everyone! Yet again months have passed between posts. I hope you're all doing well. This year my goal has been to always dress in womens' clothes and shoes with full makeup on when I go to work or otherwise outside the house. I've succeeded with the exception of one three hour night time shift and once when I drove to the store for medicine when terribly sick. My makeup style's evolved through the months, so I decided to post what it's like now. This was before work today.
CoverGirl TruBlend in Classic Ivory (changed to a narrower bottle since I last posted)
Maybelline Ever Fresh Pressed Powder in Translucent Fair
CoverGirl Brow and Eye Makers in Soft Brown
Lancome ColorFocus 4Dreaming in white (of the four colors)
CoverGirl Eye Enhancers in Shimmering Onyx
MAC Violet pigment
BonneBell Eye Style Shadow Box in Sweet Lavenders
MAC Blooz Eye Kohl
Estee Lauder Projectionist mascara
NARS Orgasm blush
CoverGirl Pick-Me-Up Pink lipstick
MAC Whirl lip pencil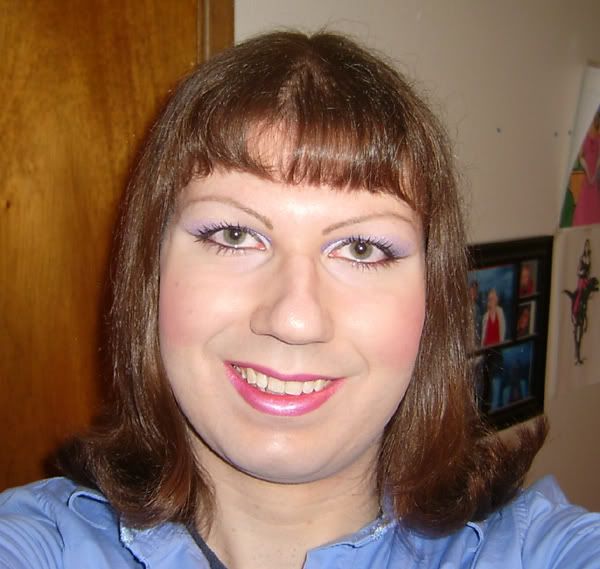 I'll be posting more pics soon. Of my Halloween costume, and of the results of my shopping spree. For 2010 I want to be even more of a woman in public, so will be adding to my goals.