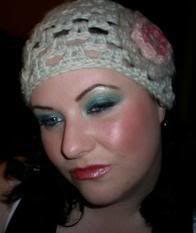 Last 3 pics are clickable thumbnails.
MAC Beige-ing shadestick as base
MAC Aquavert e/s on highbrow
MAC Teal Pigment on lid and crease
MAC minted Kohl under lower lashes
MAC Engraved powerpoint on waterline
MAC Blacktrack fluidline
Maybelline Great Lash mascara in black
MAC Stereo Rose MSF on cheeks
MAC Show Coral Chromeglass on lips.
Fairly quick look....just wanted to try out some makeup with my new hat *grin*. Ignore the skin, after being ill I am a little run down and it is showing in my skin.