This UK,seller was pointed out to me ages ago and i did report her (all her MAC was fake etc)but she started selling again!Whatsmore i actually feel very stronglywhen sellers or buyers rubbish someone nationality in feedback...wth ??!Especially when the seller in question is dishonest and plain ignorant?


Well i will be reporting "youvegotenemainme"to ebay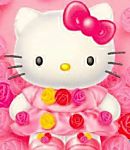 youvgotafriendinme
JO!! no envio articulo y ni siquiera contesto a los mensajes. mal vendedor.Buyer:
misslokura
(
37
)
25-Jan-10 21:17
Reply by youvgotafriendinme (26-Jan-10 18:10):

This is the reason i do not sell to spain or italy, they are very dishonest !
HELLO KITTY 10 COLOUR EYESHADOW PALETTE - NEW! (#110461139487)
Lol i thought i add this text...seller is so deluded

PLEASE TAKE A LOOK AT MY OTHER ITEMS, I SELL HELLO KITTY COSMETICS AND 100% AUTHENTIC MAC COSMETICS