We were having a discussion the other day on another makeup site about something a famous cosmetic company owner said about no one should wear blue eyeshadow and only rock stars and I forget who else should wear smokey eyes- no one else.
So, in honor of rebelling against this assertion, I did a sultry FOTD using smokey eyes and the new Strange Hybrid lipstick.

I have a list of what I used right on one of the photos and have included another photo where you can see lid application more clearly too.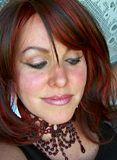 Application
EYES
Apply So Ceylon MSF on lids using damp brush with scraped product in other container
Apply Shimpagne from lid to brow in same manner
Apply Frost pigment at arch of brow and blend
Apply Nightfish FL inner rim and outlining eyes
Apply mascara
FACE
Spray Fix + on face
Dust on Stereo Rose MSF with 187 brush on apples of cheeks and in sunburn line and blend
Dush on Metal Rock under cheek bones and below chin
LIPS
Outline lips in Spice liner and blend in toward lip
Apply Strange Hybrid lipstick covering entire lip
Apply Prize Petal to lips over all