You ladies are SO fierce that you all have inspired me. ESPECIALLY Nyla2120. You girl are FIERCE!!!! At any rate, you all have inspired me to take more risks with my make up and I'm REALLY excited!!!!
Face
ELF mineral consealer Warm
Black Opal Deluxe Finishing Powder in Medium
MAC Merrily Blush
Eyes
Ulta Eye Shadow Base
Ulta Shapphire e/s
CS Blackstar Green mica
CS Interblue Sparks mica
MAC Delft p/p
MAC Honey Lust e/s
MAC French Cuff e/s
MAC Blue Flame e/s
Mac Espresso e/s
Maybelline lash stylist mascara
Maybelline Full N' Soft mascara
Lips
Mac Possium Nose l/g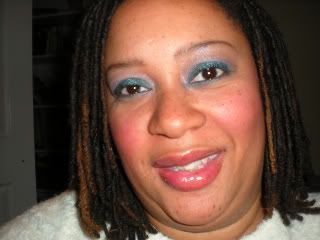 I welcome ANY comments. My camera isn't the greatest, but I truly TRIED... Thanks!