Hello! So, here is my over the top Suite Array make over! Everything was crazy! My brows, shadows, bronzer, lips! hahahaha

My MA said she was going to do something out of my comfort zone, so I let her! OMG, it was so different than what I'm used to. It took a while to getting use to but I'm happy to have tried something different.
I hope you all enjoy, I know I did!
Thank you all in advance!
Eyes:
Soft Ochre p/p
Sweet Liason (brow)
Blanc Type
Fly-by-Blue (crease)
Blue Zone (crease + lid)
Rave (lower lash)
Liquid liner
Espresso (brows)
Face:
Mineralize Satin Finish in NC37
MSF Medium Deep? (bronzer)
Lips:
Miss Fortune liner
Ahoy There! glass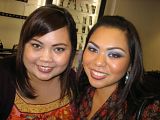 My friend Mia and myself. She's so cute! She was so excited!
My and my love.