So I've been sick and after spending the whole day sleeping, I was up all night! What better way to make use of my time then to do a tutorial

So we're going for this look: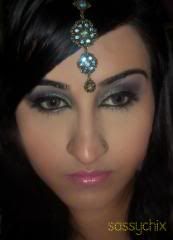 Begin with your prepped face and add loose powder below your eye to catch any falling eyeshadow
next i use this gunmetal coloured cream eyeshadow frm HotTopic as a base. Colours tend to turn out different when applied on a different coloured base, rather than the usual transparent ones.
Apply to your mobile lid
and slowly blend upwards
You should get something like this. It gets lighter as u blend it up
I love this. Benefit ShowOff's in mint julep. Im using a regular Medium sized flat brush
Apply colour to your mobile lid, 3/4of your lid
Slowly blend colour upwards into the crease
I then use this Blue, which i believe is from The Body Shop,im using a fluffy angled brush
Apply colour to your outer corners, and up into your crease
oo messyyy...BLEND!
Go for Sketch, a dark maroonish shade, im using a fluffy angled brush again
Lightly apply to just the outermost corner, to give the look more depth
unblended so you can see the colours
Then I go for Phloof! or whicever colour you use for your browbone, and a larger flat brush
Apply below your browbone
and blend into the colours at the crease
Use your liquid liner (fluidline and pencil liner dont give as much intensity)
and line your top lashline
Now DONT dip back into the pot, instead, with whatever is left on the tip of the liquid liner, extend the liner OUTWARDS at your INNER corners
You know what to do

Yeayy!
Im using a peachy colour blush and mac global glow for my highlighting
apply blusher first
then smile and apply highlight to the apple of your cheeks
i then use a very lightpink lipliner
and im not just lining the lips, but filling it in too
shimmery pink lipgloss
Dip your eyelining pencil in fluidline for more intensity
and line your waterline
and finally, to ad a lil more touch of shimmer, i use this japanese brand glitter liner
and line my lower lashline
and you're done!