I ordered a couple things from Gucci Westman's new line and wanted to share.
Westman Atelier was released exclusively to Barney's, but it looks like it is now also available at Violet Grey. She released a foundation, highlighter stick, tinted cream highlight, cream blushes in stock form, and a powder bronzer. The foundation range currently is not very large and only comes in neutral and yellow tones. She apparently has plans to expand the foundation range and color cosmetics this fall.
I purchased two shades of the foundation (III and IV) as well as the tinted highlighter (it comes in one shade - Peau de Peche) from Barney's since they currently have a gift bag event.
Swatches: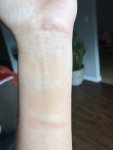 Top to bottom: III, IV, Peau de Peche Super Loaded Tinted Highlight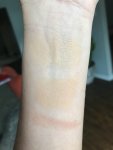 Same order here
The packaging of these three items is wonderful. Very on point for a high end line.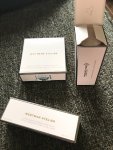 The foundation cap is magnetic and the entire thing has a great weight to it.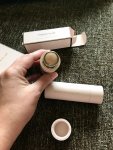 Peau de Peche. I love this packaging. It also has a great weight and it just looks beautiful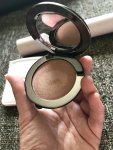 The compact and the two foundation sticks. The compact came in a really nice leather feeling pouch. Obviously it's not leather. But it's much nicer than the usual felt pouches.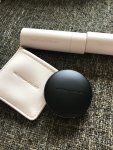 I am going to apply everything and report back! I feel like this line, though small, has been very well thought out and shows quite a bit of attention to detail. If that translate into product performance then I'll be thrilled