I actually liked this look

I done it for basically, sitting around the house and doing nothing all day haha!
And it obviously looked much better in real life.
Sorry for lack of pictures..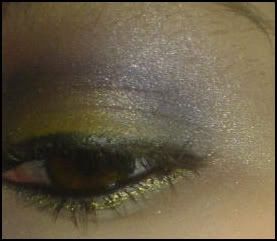 The closeups were taken with a different camera to the full face haha. And both were mobile phones.. so sorry for the quality

Anyway.. what I can remember using:
(All MAC Unless otherwise stated)
Face:
MAC SFF NC15, Maybelline Everfresh concealer in ivory, loose powder(s) of various brands, cubic blush & frozen white pigment to highlight
Eyes:
Shroom, Nocturnelle, Aquadisiac, Overgrown, Deep purple pigment, Golden olive pigment & a touch of Greensmoke.
Also Maybelline eyeliner & Rimmel Magnifeyes mascara in black & non-branded base.
Lips:
Orangedescence lipglass & vaseline
Constructive criticism is appreciated

Thanks xoxo