Hello everyone!

I didn't post any FOTDs here in
ages
and the ones I did post kinda suck

so let me post something I did few days ago...
First of all, let me explain these "sexy" poses and "f*ck me" look in my eyes

I did this for a weekly challenge which was "sex".

So, let's see that sexy look!
USED-
Face- Maybelline dream liquid mousse
Cheeks- MAC "Dollymix" and Physician's formula shimmer strips in "Malibu strip" (I only used two lightest shades).
Lips- I used different stuff because I wasn't sure which one I like more- MAC "Snob", or "Kinda sexy" or both together.
Eyes- Too faced shadow insurance, "Sharkskin" shadestick, "Carbon" e/s, "Black tied", "Satin taupe", "Ricepaper", "Crystal avalanche". "Blacktrack" fluidline as a liner, Shiseido mascara base, Cover girl lashblast mascara.
I'm not sure how big my pics are, so let me post thumbnails- click-click!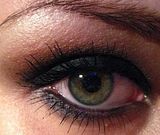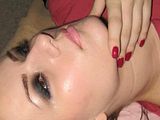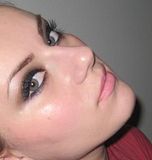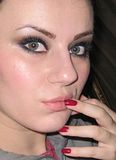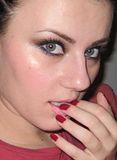 Thanks for looking!