Bored as a bored thing so had a little play with some stuff, the pics have been taken in various lighting conditions although they are still shit and don't bring out the true intensity of the colours unfortunately.
All pics are clickable thumbnails.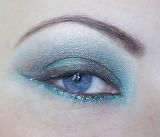 What I used:
MAC jadeye fluidline as a base on lid
MAC blue Brown pigment on eye lid
MAC Aquadisiac corner of eyes, under lower lashes and above the blue brown
Bourjois Liner stylo in brown on waterline
MAC Ostentatious fluidline above upper lashes
MAC peacocky glitter liner under lower lashes
MAC Vanilla pigment on highbrow
Benefit Browzings wax on eyebrows
MAC Embark e/s on eyebrows
Too Faced Lash injection in black
Then for fun I decide to play with some new false lashes I got. They are Eylure Tokyo lashes 'I'm Yuko'. They were a bugger to apply and had the effect of looking quite heavy on my lashes as you can see from the pics, but I had fun anyway.