Hi, long time no see!
Been ages since I have posted anything on Specktra but life has been kinda crazy lately *waves to everyone*
Playing around with some colours, I really had a hard time finding dupes for the range, I could not believe the large absence of matt colours in my collection I need to sort that ASAP. I also need to expand my collection of eyeliner pencils as I didn't have a blue for this look so had to use a GOSH Art liner in a blue and it was a bitch to work with compared to a pencil and didn't really give me the look I wanted. Anyway, because I have had to fudge the look a bit the result is a very pearly look.
Meh, its about passable.
All clikcable thumbnails.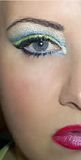 I used:
MAC Studio Fix fluid NW15
MAC Lightscapade MSP
Urban Decay PP
MAC Blurr e/s on highbrow and inner corner of eye
GOSH art liner 05 (lime) on lid as base
MAC Chartreuse pigment on lid
GOSH art liner 10 (blue) to create line at the crease and below lower lashes
MAC Blue pigment to blend with the liner on the crease
MAC Blacktrack eyeliner above upper lash line
MAC Engraved powerpoint below lower lashes and on eyebrow (as mine are a blonde/light brown colour)
Max Factor masterpiece max mascara in black.
Lips:
Barry M Lip liner 3 (red)
B Never too Busy to Be Beautiful Lip creme in Beijing
MAC Blurr on the inner bottom lip.
So whadda ya think.....