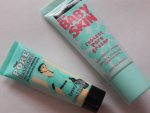 The Original:
Benefit POREfessional is a Pro Balm, which blurs out the appearance of pores and can be worn on its own or underneath foundation.
The regular size is £24.50.
Here I have a sample size which costs £9.95 from Boots- and I'm almost out
.

The Copycat:
Maybelline Baby skin instant pore eraser, is a light weight primer, which also eliminates the appearance of pores. Again, you can wear it alone or under your foundation.
This retails at £7.99 from either Boots or Superdrug. Trust me, you can't miss it, it is literally advertised everywhere.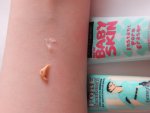 Side by side, they do look different. Baby Skin, looks and feels like a normal, drugstore silicone primer (similar to the GOSH or Make-up revolution ones) with a oily consistency which glides onto the skin. This doesn't sound appealing, however if you have dry skin, this will sit on top of it and help the application of the foundation go on smoothly.
Where as the POREfessional is silky in texture and goes on smoothly to the skin, after it's applied, it doesn't feel like you're wearing it. It's literally weightless.
Both do live up to the claims of blurring out the pores, however, I wouldn't see the point of wearing it alone, I have to wear foundation.
Without a primer, my foundation typically leeches onto the skin, showcasing my pores, however, with BOTH primers, I do find their appearance reduced.
As for lasting power, they last on average 5-6 hours with me, but then again, I have a really active job, so after a while my make-up melts off.
All in all, this is a really good dupe.
For those with more oily skin, I would probably steer clear of the Maybelline Baby Skin due to it's oily consistency, however if you have dry to normal skin, I would certainly recommend this.
What are your thoughts?